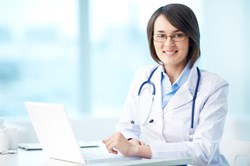 It's a simple, integrated, on demand telehealth solution any Provider can use that seamlessly fits into their daily workflow.
New York, NY (PRWEB) January 24, 2014
MediSprout has created a secure (HIPAA compliant), cloud based, HD video conferencing service which provides a medically specific telehealth option for the established provider who sees patients every day in their office, hospital, nursing home, or any health care related facility. The service is on demand, meaning anyone can connect with anyone else at any time. Services that medical providers use currently (Skype and other video conferencing sites) are not HIPAA compliant and their use can incur large fines and penalties for Providers.
The idea behind MediSprout originated when Samant Virk (co-founder; https://medisprout.com/about-us), while working as a physician, began exploring more efficient ways to communicate with his patients. He realized that although many times medical care has to be a hands-on, face-to-face interaction, there are many circumstances where it doesn't. "It was at times frustrating to hear patients explain how they had to take half their day off for a ten-minute appointment that was solely based on verbal and visual interaction. It was a misuse of their valuable time as well as our valuable office resources." This is where the motivation for creating Medisprout was established. From an engineering/development standpoint, the structure and design (done by co-founder Randy Findley; https://medisprout.com/about-us) was challenging as they addressed the need for ease of use and integration into a typical medical workflow with patient accessibility. "It's seamless and streamlined with design that does not store any confidential patient information. Our service just mediates the interaction for now through encrypted video technology that is extremely easy to use." Their system also incorporates medically specific tools such as file sharing and screen sharing that can enhance the visit.
MediSprout, while promoting the use of online care, still respects the need for face-to-face visits. It views itself as a service that enhances rather than replaces the traditional doctor's visit. This is what separates it from more typical telehealth companies where there is no established relationship or physical interaction as usually the patient and provider are at remote locations. While these organizations offer a valuable medical service, MediSprout believes that it is some combination of traditional office-based practice fused together with a telehealth option which will best serve overall patient needs. This model will, at the same time, create needed efficiency in established medical practices and actually effect long-term medical outcomes rather than just short-term needs.
Revenue generation is through a monthly flat fee that is paid by providers (https://medisprout.com/learn-more). Given the trends in insurance reimbursement as well as people paying out of pocket or using health care spending accounts for other types of telehealth visits, using MediSprout can be quite lucrative for existing practices as well as serve as a competitive advantage. Besides revenue, the other question physicians and other health care providers have is about liability. Many insurance companies that cover medical malpractice have telehealth coverage options. If not, there are companies that will cover the liability of just the telehealth service for any particular provider (http://www.telmedinsurance.com).
While MediSprout is elated about its initial product, it sees communication through its current HD video technology as only a beginning. They view what they have now as a backbone with much more to come. "We have several ideas on how we want to make the interactions between provider and patient more meaningful and productive using technology to improve patient experiences, improve medical outcomes with more efficient use of physician time while reducing overhead." MediSprout is out to elevate the way medical care is delivered, setting a new standard in comprehensive patient care.