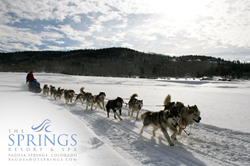 With the wind in your face, you will witness the trilling views of Southwester Colorad's mountain ranges, alpine lakes and streams. -Twila Baker, Owner, Pagosa Dog Sled Tours
Pagosa Springs, CO (PRWEB) February 10, 2014
New to the 2014 winter season, Pagosa Dogsled Tours mushes their way through Pagosa Springs, Colorado.
Thrilling, dramatic and beautiful are perfect words to describe the newest exciting adventure available through The Springs Resort & Spa in Pagosa Springs, Colorado.
Imagine taking a picturesque drive through the Weminuche Wilderness and arriving at a large Pine Pole gate where a team of Iditarod-bound Alaskan Malamute dogs are waiting.
Now comes the time to meet the team. Expect to see smiles and receive what can only be called a genuine Malamute hug! Pagosa Dogsled Tours
Become a part of the experience by helping hook the dogs up, and then it's off to an exciting dog sledding adventure! As the adventure comes to an end, rewarding the dogs with love and attention is part of the payment. If you can tear away from new found friends, hot drinks and cookies are waiting for enjoyment by all. Complete the experience by helping unhitch the team and give the canine athletes one more goodby.
About The Springs Resort & Spa- One of Colorado's best kept secrets, The Springs Resort & Spa in Pagosa Springs, Colorado is home to the World's Deepest Geothermal Hot Springs. The resort offers 79 rooms including 29 Gold LEED Certified EcoLuxe Suites. Guests are offered 23 outdoor naturally hot, therapeutic mineral water hot springs accessible 24 hours per day. Our full service spa and salon provides services including massage, facial, hair, nail care, neuromuscular therapies and chiropractic care. Our convenient location on the banks of the San Juan River offers access to many water activities including fly fishing, rafting, tubing and romantic walks along the rivers' edge. Other local attractions offered through the resort include hot air ballooning, scenic narrow-gauge railroad rides, dog sled tours, skiing, snowboarding, snowmobiling and ancient Indian ruin tours. In 2006 a visit from Oprah Winfrey who took a dip in one of our favorite mineral tubs – The Cliffs Tub – on her journey across the US When you are looking to spend quality time enjoying a quality soaking experience, The Springs Resort & Spa is your location. The Springs Resort & Spa in Pagosa Springs, Colorado.
About Dog Sled Tours- PAGOSA DOGSLED TOURS- half day, full day and multiple day tours personalized adventures such as full moon excursions, special events, and gourmet dinner tours available. Twila Baker, owner, has been involved in mushing for since 1989. An active member of the Alaskan Malamute Club of America, she has mushed, shown, bred, and (most importantly) loved & been loved by Alaskan Malamutes for 25 years. With, literally, tens of thousands of miles on the runners as well as starting, operating & retiring from a successful dog related company, Twila brings both mushing and business skills to this endeavor.