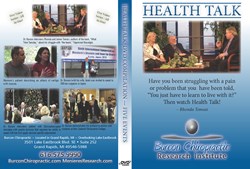 "Words cannot express the gratitude and respect that I have for you. You have given me my life back, and given Greg his wife back." - Sincerely, Kris Wiema
(PRWEB) January 23, 2014
The featured speaker at this year's Meniere's Disease Research Institute's Workshop is Dr. Michael T. Burcon, B.Ph., D.C., world's leading expert on Meniere's disease (MD). Burcon has proven a correlation between MD and whiplash (caused by a vehicular accident or a fall on the head). The reason it took so long to find out the cause of MD is because it takes an average of 15 years from the time of the trauma until the onset of symptoms.
His most recent peer reviewed paper, "Resolution of Glossopharyngeal Neuralgia & Spastic Dystonia following Chiropractic Care to Reduce Upper Cervical Vertebral Subluxation: A Case Study," appears in the Winter 2014 edition of the Journal of Upper Cervical Chiropractic Research, the McCoy Press.
Dr. Burcon is the only doctor that has presented at every international Meniere's seminar over the past ten years. He has spoken to over 1,000 chiropractors and over 1,000 ear, nose and throat surgeons (otolaryngologists) to the Politzer Society at Cleveland Clinic, International Symposiums on Meniere's Disease at the House Ear Institute in California and Kyoto International Conference Center in Japan and twice at The Prosper Meniere Society in Austria. His papers have been published in the Journal of Vertebral Subluxation Research and the textbook, Upper Cervical Subluxation Complex, a Review of the Chiropractic and Medical Literature, by Kirk Ericksen in 2004.
Burcon spoke at the New Zealand College of Chiropractic in July of 2012 to chiropractors and students from Australia and New Zealand. He offered free examinations to MD patients in both North and South Islands. He presented his research to the Blair Upper Cervical Society's Annual Conference in St. Louis last September. In February 2014 he will be available for consultations in Kingston and Mandeville, Jamaica.
Based on 300 Meniere's disease patients followed from a minimum of four years to a maximum of fourteen years, his protocol has eliminated vertigo in 97% of these patients. He has gone on to establish a correlation between Meniere's disease, Trigeminal neuralgia (TN), Bell's palsy, migraines, Parkinson's disease and Glossopharyngeal neuralgia. Patients typically get diagnosed with MD or TN in middle age. Their injuries most often happened during high school or college years from a car accident, sports injury or fall on their heads. Few patients list these old injuries on their doctor's admission paper work. In fact, they have often forgotten about them, believing they were not hurt if they were not admitted to the hospital.
This is the only seminar that brings doctors, medical and chiropractic, patients and their care givers together. Speakers will be from 10 a.m. until noon. A team of doctors will then be examining and treating patients in the afternoon, then discussing their findings over dinner that evening.
The Burcon Chiropractic Research Institute in Grand Rapids, MI offers a complimentary double DVD set of Dr. Mike's "Health Talks," his annual television show on GRTV. Call Jane Burcon for reservations or more information at 616.575.9990 or go to http://www.BurconChiropractic.com.