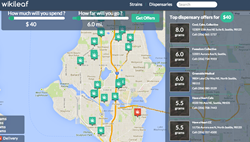 "Marijuana dispensaries will almost always offer a first time patient a great deal."
Seattle, WA (PRWEB) January 24, 2014
Wikileaf.com is aiming to be the first price comparison website for recreational and medical marijuana.
This morning Wikileaf.com went live with their legal and medical marijuana marketplace in four states and will be growing to cover three more states in the coming months.
The marketplace is set up using a "reverse auction" format. This means that a user specifies how much they're going to spend on their next dispensary visit, then dispensaries in their area compete for their business by putting forth their best offers at that price point.
They have over 900 dispensaries competing in the market place with more being added each day.
Dispensaries are able to offer competitive pricing for two primary reasons.
The first is the "first time patient deal." "Dispensaries will almost always offer a first time patient a great deal, especially if the dispensary is new or aggressively seeking new customers," says Dan Nelson, founder of Wikileaf.com. "Savvy shoppers in the industry are already bouncing around from shop to shop in search of first time patient offers and we exist to shine a light on these deals."
The second industry dynamic providing savings to customers is when cannabis strains sit on the shelf for longer than 10-14 days. "At this point dispensaries are typically willing to drastically reduce the price of this strain and put it on clearance," states Nelson. "We've seen outrageously low clearance pricing from trusted dispensaries up and down the west coast, but they have had no real platform to funnel these deals to customers." "With the Wikileaf marketplace dispensaries can login at anytime and adjust their prices to reflect current inventory levels."
In the coming months they will be building out this marketplace on apps for android and apple phones and well as windows and the ipad.