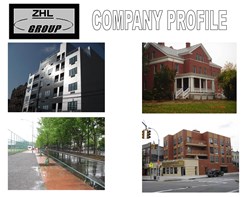 Building today for a better tomorrow
Brooklyn, NY (PRWEB) January 27, 2014
FDNY put into operation a maritime ship simulator designed to train, none other than, NYC firefighter heroes at the FDNY training facility on Randall's Island. The ship simulator was designed to train fire fighters on how to safely approach and battle a maritime disaster. It is the latest addition of an ongoing FDNY Firefighting Training initiative. ZHL Group designed the simulator in order to emulate a ship's structure and floor plan so it can familiarize firefighters with the different types of fires that a ship may encounter at sea. Whether it's a deck, control room, engine room, or mess hall fire, the firefighters will be able to have hands-on ship experience in a controlled environment.
On December 7th, as an acknowledgement for this exceptional project, the ZHL Group received the 2013 Building Award for excellence in design and construction from the Queens & Bronx Building Association. Proud CEO of the ZHL Group, Yevgeniy Lvovskiy, notes, "We are honored to receive this prestigious award and we, once again, affirm that we are dedicated in building high quality projects to meet our clients' needs. Our motto is 'building today for a better tomorrow!' which will reflect in the use of this structure in training the firefighters for future disasters and reflects every day in the intention of everyone in our firm."
The FDNY knows that the only way to understand the nature of a fire or explosion is to experience it firsthand which means written materials can only take trainees so far. That is where ZHL Group comes in. Along with Brooklyn-based architect Philip Toscano, the company conceived and built the maritime simulator that provides firefighters with an opportunity to fight a contained, simulated, fire on a ship before ever having to encounter the real disaster. The project was constructed at the existing FDNY training facility and has already significantly improved the training capability of the FDNY. This training facility not only covers the needs of the FDNY, but also many local, state, and federal emergency responders will use the simulator along with visits from international groups. So the maritime simulator build by ZHL Group is expected to make a significant impact on the FDNY and improve general safety throughout a wide geographic influence as well.
As Mr. Lvovskiy adds, "We are extremely proud of this high profile project, it has proven the trust we have earned with our clients and within the construction industry. Our firm is committed to exceeding our clients' expectations through a proactive project approach, whether it is a multimillion-dollar technical facility or the renovation of an existing space. We use leading edge construction technology to realize our clients' expectations and we deliver value through meticulous planning and strong plan execution." ZHL Group, Inc. provides a full range of building services from construction management, with the guidance of experienced professionals, to general construction performed by a staff of team-oriented individuals who share the common goal of exceeding our clients' needs and expectations. Specific services offered include: Construction Management, New Construction, Renovation, pre-construction services, construction scheduling, phasing and preparation of site logistic plans, estimating/financial management, QA/QC, safety management and on-site supervision.
About
ZHL Group Inc., founded in 2001, in New York is a leading General Construction and
Construction Management firm. Fully licensed, insured, and bonded. ZHL Group is a competitive, high quality company that guarantees delivery of projects on-time and within budget. The services offered by the firm cover a wide range of pre-construction,
construction management, and general construction services. http://www.zhlgroup.com
Some of ZHL Group featured and current projects include the FDNY Special Operations Command Center, Hudson Greene Market, Joseph McGuire Park, 710 6th Avenue, 2471/2475 Ocean Avenue, and the FDNY Subway Simulator enclosure.