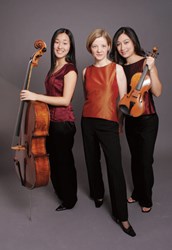 Each performer was a perfect third of the whole — delivering the music in an honest, democratic manner, with flawless ensemble and intonation.
Carmel, CA (PRWEB) January 24, 2014
While Trio Cavatina is relatively new to the chamber music scene, "their sophistication and brilliance belie both the youth of the musicians and the time they've played together (The Star Democrat, Maryland)." Trio Cavatina formed their partnership in 2005 at the renowned Marlboro Music Festival in Vermont. As the winner of the 2009 Naumburg International Chamber Music Competition, Trio Cavatina made its Carnegie Hall debut in 2010 with scintillating performances of two monumental Beethoven trios, Leon Kirchner's second trio, and the world première performance of 'Faces of Guernica' written for them by American composer Richard Danielpour. In addition to their command of the classical and romantic repertoire, Trio Cavatina is committed to collaborating with living composers and to weaving 20th and 21st-century repertoire into their programs.
The freshly retired, but by no means inactive, Samuel Rhodes (violinist Harumi Rhodes' father) will join the Trio in their performance of Aaron Copland's Quartet for Piano and Strings and Brahms' Piano Quartet in C minor, Op. 60. Also on the program is Beethoven's Piano Trio in E-flat Major, Op. 1, No. 1.