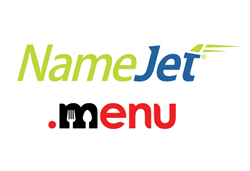 "With so many new top level domains coming to market in 2014, the Q1 launch of .MENU puts the registry in a great position to capitalize on early consumer interest." - Matt Overman, General Manager of NameJet
Kirkland WA (PRWEB) January 23, 2014
The .MENU Registry has opened the sunrise phase of release for the new Top Level Domain (TLD) .MENU. The registry has partnered with NameJet to run all auctions for both the sunrise and landrush phases of the TLD launch.
The .MENU Top Level Domain is ideally suited for restaurants, catering businesses, food service industries, and food enthusiasts. During the sunrise phase, trademark holders are given the opportunity to acquire .MENU domain names that correspond to their trademarks prior to the domains being released to the general public.
"With so many new top level domains coming to market in 2014, the Q1 launch of .MENU puts the registry in a great position to capitalize on early consumer interest," said Matt Overman, General Manager of NameJet. "The addition of a dedicated online space for menus will only add momentum to what companies like Yelp, Zagat, OpenTable and Urban Spoon have already started."
NameJet is the exclusive auction platform for .MENU, and will oversee auctions during the sunrise and landrush phases of release, as well as premium domain auctions.
Trademark holders who wish to acquire a .MENU domain should submit an application with a registrar that is offering .MENU domains such as http://www.encirca.com. In any instance where domains receive two or more successful applications, NameJet will operate the auction to resolve the contention allowing all parties to bid for the rights to the domain name. The Sunrise window for .MENU officially opened on December 9, 2013 and the deadline to apply is February 6, 2014. Auctions are scheduled to run during mid-February at NameJet.com. For more information, please visit NameJet's New TLDs web page.
About NameJet:
NameJet is a joint venture between Demand Media, Inc. [DMD] and Web.com Group, Inc. [WWWW] who each own two of four leading ICANN-accredited registrars (eNom, Name.com, Network Solutions and Register.com). Launched in 2007, with core auction software and technical infrastructure operating since 2004, NameJet serves domain investors, Fortune 500 companies and their representatives, small- and medium-sized businesses, as well as a diverse and global mix of individual investors. It has processed over 200,000 domain auctions, establishing itself as a trustworthy and transparent auction platform that is customer-focused and user-friendly.
About .MENU Registry:
The .MENU Registry offers a new, intuitive and targeted namespace which will allow restaurateurs, food service industry professionals and food enthusiasts to expand their web presence and use behavior beyond .com in a more relevant corner of the Internet. The word "menu" means the same thing in languages across the world and reflects what is often the most important item of information consumers look for when considering dining options. Wedding TLD2, LLC, the operator of the .MENU Registry, is a privately held company based in California. For more .MENU information, please visit http://www.dot-menu.com.