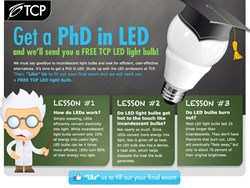 Aurora, OH (PRWEB) January 23, 2014
With the government-mandated phase out of incandescent light bulbs making news, the energy efficient lighting experts at Technical Consumer Products, Inc. (TCP) want Americans to "Get a PhD in LED."
The elimination of incandescent light bulbs has led many Americans to search for cost-effective, energy-efficient options. LED lighting tops that list! Yet, there's confusion around the basic differences between incandescent and LED bulbs and what to look for in an LED product. Today, the LED lighting experts at TCP launched the "Get a PhD in LED" Facebook promotion to help take care of that education.
To participate, log on to TCP's Facebook page at http://www.facebook.com/TCPLighting and click on the "Free TCP LED Light Bulb" promotion. "LED students" will be presented basic facts about LED lighting options. TCP will send everyone who participates a free TCP LED light bulb to try at their home or business.
TCP plans to share more facts and information about LED lighting on the company's Facebook timeline and Twitter feed so "students" can continue their education.
With its North America headquarters in Aurora, OH, TCP is a privately-held leader in energy efficient lighting innovations. TCP's extensive product offerings include: LED lamps and fixtures, compact fluorescent lamps, energy efficient halogen lamps, exit and emergency lighting, HID, decorative and outdoor fixtures, ballasts and fixtures, and linear lamps. TCP was recently named a 2013 ENERGYSTAR® Partner of the Year by the U.S. Environmental Protection Agency
For more information, visit us at http://www.tcpi.com or call (800) 324-1496.