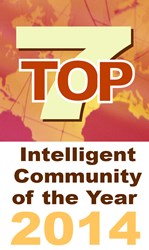 The Top7 Intelligent Communities have begun to fuse technology, culture and collaboration for economic sustainability. They have set a new course for other cities to follow.
Taichung City, Taiwan & New York, New York (PRWEB) January 23, 2014
The Intelligent Community Forum has announced the 2014 Top7 Intelligent Communities of the Year. The Top7 list includes three from Canada, two from the United States, and two from Taiwan. "This year's Top7 group is unusual in that they represent only three nations. However, they collectively are a canvas that represents our movement. Each made it to the list by demonstrating how they have begun to fuse technology, culture and collaboration for economic sustainability. They have set a new course for other cities to follow. We look forward to welcoming them to New York in June for the selection of the Intelligent Community of the Year," said Lou Zacharilla, Intelligent Community Forum co-founder as he announced the Top7 at a conference hosted in Taichung City, Taiwan, the 2013 Intelligent Community of the Year.
In alphabetical order, the 2014 Top7 Intelligent Communities are:
Arlington County, Virginia, USA, which is building its own fiber network to boost broadband service and re-energize government-business-university collaboration
Columbus, Ohio, USA, which in its recovery from the 2008 recession has 20,000 more jobs than it did at its last economic peak in 2007
Hsinchu City, Taiwan, the first city in Taiwan to implement e-learning platforms for its students and establish a science park
Kingston, Ontario, Canada, which leveraged its educational institutions to build an innovation economy focused on environmental sustainability
New Taipei City, Taiwan, a new city forged from communities surrounding the nation's capital, which is creating a unified and dynamic knowledge economy
Toronto, Ontario, Canada, with a renowned waterfront development that will provide Internet at 500 times the speed of conventional residential networks
Winnipeg, Manitoba, Canada, where reinvention of its agricultural legacy is creating strong growth while preserving a valued heritage
Study after study notes that cities all over the globe need solutions to a wide range of problems from transportation and the environment to economic growth and education. Intelligent Communities provide solutions.
In order to qualify to become a Top7 Intelligent Community, these cities and regions first needed to become an Intelligent Community Forum Smart21 Intelligent Community. The Smart21, named in October 2013 were chosen from hundreds of evaluated communities from around the world.
Candidates are evaluated based on the five Intelligent Community Indicators, which provide the conceptual framework for understanding all of the factors that determine a community's competitiveness and point to its success in the broadband economy. In addition, the Intelligent Community Awards Program is guided by this year's theme, Community as Canvas, that looks at three specific aspects of culture: as art and craftwork with both economic and social value, as heritage that gives a place its identity, and as attitudes arising from that heritage that determine how people react to change. The Intelligent Community Forum released a white paper discussing the theme, which can be downloaded here.
The Intelligent Community Forum Awards Program concludes in New York City in June 2014 during the Intelligent Community Forum's Annual Summit, where one of the Top7 Intelligent Communities will succeed Taichung City, Taiwan, as 2014 Intelligent Community of the Year.
NOTE: A broadcast quality video of the Top7 Intelligent Communities of 2014 is available on YouTube.
The following is a summary of the outstanding features of the 2014 Top7 Intelligent Communities:
Arlington County, Virginia, USA. Making its second appearance on the Top7 list, Arlington County is the smallest self-governing county in the U.S., Arlington is also one of its most densely populated, most diverse and most livable. Livability is a product of forward-looking planning during the 1980s, when the county successfully lobbied for an underground Metrorail line to connect with an existing commercial corridor rather than a less costly route along a future interstate highway. High-density economic growth took place around Metrorail stations, leaving quiet residential neighborhoods and 1,100 acres of parks and open space beyond. Bordering Washington DC, of which it was once part, Arlington County has a highly educated population (69% have a university degree) and a public school system (ranked in the top 1% nationwide), where students hail from 126 countries and speak nearly 100 languages.
But the county faces significant challenges to its future. Decisions by the U.S. Department of Defense will move 13,000 jobs out of the county over the next several years. Expansion of the Metrorail system will put the county into competition with cities farther from Washington that offer more attractive commercial rents. Arlington has found that its dynamic population is also a transitory one. The highly mobile workforce makes workforce retention difficult and creates obstacles to maintaining the spirit of volunteerism and collaboration that has underpinned the county's success.
To combat these challenges, Arlington is doubling down. Dissatisfied with private-sector carriers that have met its past needs, the county is developing its own fiber network to leapfrog current broadband capacity. Government-business-university collaboration has been critical to its innovation economy; the county is now reaching out to Latin business owners to more closely connect their energy and entrepreneurship to the mainstream culture. It is taking its community engagement out of the meeting hall and putting it online and mobile. A new "Yellow Button" iPhone app asks citizens to weigh in on public issues anywhere at any time. And a new round of master planning is promoting redevelopment of commercial centers to forge a better balance of residents and workers and create dynamic neighborhoods attractive to innovators and leading-edge businesses. Through an Arts Incubator program, the county has doubled the number of arts organizations, further increasing its lifestyle advantage.
Columbus, Ohio, USA. Making its second appearance on the Top7 list the capital of the state of Ohio, Columbus combines great strengths with significant challenges. It is the home of two multi-billion-dollar institutions: Ohio State University (OSU), one of America's largest research universities, and Battelle, the world's biggest private research institute. Fifteen of America's largest companies make their home there, as do award-winning museums, science centers and libraries. Multiple commercial broadband providers serve the metropolitan area, and public-sector networks provide government and academia with even more advanced capabilities. In 2013, US employment was still 25% down from the previous high, but Columbus had 20,000 more jobs than at the last economic peak.
OSU lags nearly all of its peers in commercialization income and patents per research dollar. The city has a large low-income population stranded by the decline of manufacturing employment and ranks 46th out of the 50 largest American cities for upward social mobility. Per-capita income has declined over the past decade and unemployment, while below the US average, is a fact of life for too many citizens, while companies struggle to find properly qualified workers to fill open positions.
Attacking these challenges through broad and deep collaboration has been the priority of Mayor Michael Coleman. Programs include the Columbus Partnership, an association of the CEOs of the city's largest organizations. It develops strategy and engages stakeholders in civic improvement projects from downtown development to education and healthcare. Another partnership, TechColumbus, offers startup acceleration, business mentoring, seed funding and capital attraction. OSU has a US$35 million venture fund, raised jointly with Ohio University, to turn research successes into new companies.
The city's Capital Kids program provides after-school digital literacy programs for students K-12, and APPS works to give at-risk youth positive alternatives to being on the street. A Brookings Institution study identified Columbus as one of the few American cities whose population of young college graduates increased from 2007 to 2009. Over the last decade, the city has seen a 30% decline in low-skilled manufacturing employment but a 36% increase in higher-skilled education and healthcare employment.
Hsinchu City, Taiwan. This is the first appearance for Hsinchu City on the Top7 list. In 1980, Taiwan's National Science Council set up the nation's first science park in Hsinchu City, as a means to create a domestic high-tech industry. Today, the 500 companies in Hsinchu Science Park employ 150,000 people and generate US$16.6 billion in total revenue. More than 10% of those companies are spin-outs from one of Hsinchu's many universities and research institutes. The 2008-09 financial crisis hit the Park hard as demand slackened for the semiconductors its companies produced. Leading companies like TSMC, UMS, Acer and Chimei Innolux shifted investment into higher-value products and services. These steps led to employment growth of 11% and production growth of 25% from 2006 to 2011, leaving Hsinchu with a 2012 unemployment rate of just 4.2 percent.
Today, under Mayor Hsu Ming-Tsai, the city's challenge is to translate economic success into civic success: to make Hsinchu City a sustainable Intelligent Community with a high quality of life, where innovation is a part of its people's daily lives. Government and business are pursuing the goal on multiple fronts. Global Mobile Corp, the dominant wireless provider, has extended 4G wireless to 97% of the city, while Chungwha Telecom has made 100 Mbps fiber service available to 64% of residents as part of the national M-Taiwan program. Digital education has gone mainstream. The city was the first in Taiwan to implement e-learning platforms – the e-Book Schoolbag and e-Book Reader – which now reach nearly 60 schools. A new cloud-based English teaching platform was launched in 2012 to help students learn the international language of business in school and at home.
Hsinchu City government has put a smart card into the hands of 120,000 residents that lets them take the bus, pay parking fees, borrow library books, shop and receive discounts from more than 30 participating vendors. Data collected from users is helping the city adjust bus schedules and measure how efficiently services are delivered across Hsinchu. City government has also launched an Intelligent City Project Office, which is promoting initiatives like the smart card to involve citizens closely in the city's continued transformation. In December 2013, the city gained the top rank in a "Better Life Index" published by Kainan University based on economic, social educational and citizen participation measures.
Kingston, Ontario, Canada. Making its first appearance on the Top7 list, Kingston is one of Canada's oldest cities, founded at a strategic intersection of lakes and rivers, with an historic waterfront and an employer base of Federal and Provincial agencies that attracts more government grants per capita than any other city in the nation. It is ranked as one of Canada's best places to live and a connected city, thanks to deployment of an open-access community broadband network supplemented with investment in the Eastern Ontario Regional Network bringing 10 Mbps service to rural neighborhoods. More than 90% of Kingstonians now subscribe to broadband. But the economy's heavy dependence on public sector spending makes Kingston vulnerable to decisions made far away, and local government has developed a multi-faceted strategy to diversify its economy while maintaining the culture and quality of life that residents treasure.
It is aided in this undertaking by the presence of Queen's University, a top 10 research institution according to Research Info Source in 2013, and St. Lawrence College, an institution with schools of business, computer and engineering technology, health sciences and skilled trades. Queen's University founded an office in 1987, called PARTEQ Innovations, to identify intellectual property and support its commercialization. PARTEQ went on to build Innovation Park, where academic, business and government researchers work to pioneer new technologies and bring them to market.
The public, business, education and government have rallied around a goal to make environmental sustainability the focus of innovation. Local government launched a community planning process that resulted in Sustainable Kingston, a plan that gave rise to a nonprofit of the same name. As a result, most research and commercialization focuses on greentech and cleantech, from the Federal GreenCentre Canada research lab to a Fuel Cell Research Centre and High-Performance Virtual Computing Lab. In addition to sustainability, the city launched a Kingston Culture Plan in 2010 to increase the impact of the city's already sizeable arts and culture economy, both for its own economic value and its attractiveness to creative professionals. City leaders see these efforts as steps in social transformation, helping a community that is already satisfied with its lot in life to seize the vast potential of the broadband economy.
New Taipei City, Taiwan. Making its first appearance on the Top7 list New Taipei City (NTPC) became the nation's most populous city with its official creation in December 2010. Previously, it was a county surrounding the capital city of Taipei, and its geography and history pose special challenges. NTPC sprawls across the northern tip of Taiwan, with a large hole in its center occupied by the capital. For most of its history, it served as a mix of bedroom community and industrial zone for the capital, which meant that transportation networks, economic ties and governance focused on flows into and out of the center. 80% of its population was not born in NTPC and consists of a wildly diverse group of aboriginal Taiwanese, immigrants from mainland China and other Taiwanese cities, and residents from 120 countries.
Under Mayor Chu, NTPC has worked to unify the new city and create a dynamic economy distinct from that of the capital. Massive investments in transportation are creating highways and transit lines that connect the city's 29 districts and more than 1,000 villages. This is paralleled by communications deployment. The NTPC government has collaborated with telecom and cable TV companies to make ADSL available to 99% of the population while speeds of up to 60 Mbps are available to 94% and 4G WiMax reaches 85%. A network of 12,500 WiFi hotspots provides free service from locations throughout the city.
Taiwan is a land of industrial parks, and NTPC's government has succeeded in attracting nearly US$10 billion of investment in eight developments focused on such growth areas as ICT, digital media, biotech, green energy and logistics. More than 3,000 precision manufacturers represent an industry output exceeding US$30 billion. Complementing this physical infrastructure of innovation, the city has promoted the growth of cloud computing both as an industry sector and a solution for government and business. A wide range of cloud-based apps provides services to citizens and paperless processes for government agencies. A Money Cloud Program provides SMEs with shared access to IT services to reduce their overhead and increase competitiveness. A Big Data program for police has led to a 40% reduction in crime and improved response time. While making ever more efficient use of resources, NTPC is also forging ties that bind this diverse region into a unified whole.
Toronto, Ontario, Canada. Making its third appearance as a Top7 community Toronto has both the assets and the liabilities that come with being Canada's largest city. On the asset side is its diverse economy, with key clusters in finance, media, ICT and film production, and success as a magnet for immigrants that have made it one of the most multicultural cities in the world. Major carriers offer high-quality broadband to 100% of residents, and its five major universities and multiple colleges have attracted 400,000 students and helped ensure that Toronto has more residents with undergraduate degrees that London.
Toronto's challenges include having the highest cost of living in Canada and transportation gridlock that gives residents of the Greater Toronto Area the world's longest average commute times. These factors have contributed to the success of suburbs in attracting new and existing businesses.
To reverse this trend, Toronto is doubling down on the value of a dense, superbly equipped and culturally rich urban experience. The centerpiece is Waterfront Toronto, North America's largest urban renewal project, with 40,000 residential units, parks and one million square meters of commercial space designed to the highest environmental standards. Offering 1 Gbps fiber-based broadband– provided at no cost to the 10% of housing set aside for low-income residents – the Waterfront is expected to offer a home to 40,000 new jobs focused on knowledge industries. Early commercial tenants include the Corus Entertainment and the George Brown College Health Sciences campus.
Though impressive in size and scale, the Waterfront is only the most visible of many public–private collaborations through which the city is pursuing an ICT-powered future. The MaRS Discovery District and the Ryerson University Digital Media Zone gives entrepreneurs space and services to move great ideas to commercial success The Centre for Social Innovation does the same for social innovators and its successful model has led to operations across four locations in two countries.
Winnipeg, Manitoba, Canada. Making its first appearance on the Top7 list Winnipeg is located at the midpoint between Canada's East and West Coasts. Winnipeg is the capital of a province rich in agricultural and natural resources. In the 21st Century, the city is pursuing economic growth by better connecting industry and education, while better equipping its large aboriginal population for opportunity. Winnipeg has formed partnerships linking employers like Canadian Tire to the University of Winnipeg, an ICT association and other public-private groups to improve the supply of skilled employees.
The Composite Innovation Centre (CIC), a public-private R&D organization, has developed high-performance composites based on agricultural materials such as hemp and flax, which reduces costs for employers like Boeing and Magellan Aerospace. CIC's success has led to the creation of a national consortium, Canadian Composites Manufacturing R&D, to conduct pre-competitive R&D for multiple companies. CIC also has a training program that gives Winnipeg students on-the-job experience.
The Digital Voices Project originated at Winnipeg's largest secondary school. Oral storytelling is a vital part of aboriginal culture in Manitoba, and the Project provides students with digital skills training. The University has established a drop-in facility for inner-city residents, where visitors benefit from free computer access as well as academic, traditional language and homework help programs. This supplements the free Internet access and ICT workshops available throughout the Winnipeg library system.
Among Winnipeg's most innovative developments for its First Nations residents is the Aboriginal Peoples Television Network (APTN), the first national aboriginal TV network and a social media offshoot, APTN Digital Drum, allows aboriginal youth to express their cultural identity and connect with each other.
Home to North America's oldest ballet company, Winnipeg has a thriving arts and culture scene. An independent film from two Winnipeggers, Indie Game: The Movie, won awards at the Sundance Festival and was a New York Times Critic's Pick. Funded on Kickstarter, it tells the inside story of the creation of a video game. In its funding, development and ultimate success, the film is a symbol of Winnipeg's ambitions and achievement.
About The Intelligent Community Forum
The Intelligent Community Forum studies and promotes the best practices of the world's Intelligent Communities as they adapt to the demands and seize the opportunities presented by information and communications technology (ICT). To help communities build prosperous economies, solve social problems and enrich local cultures, the Intelligent Community Forum conducts research, hosts events, publishes newsletters and books and produces its high-profile international awards program. Over more than a decade, the Intelligent Community Forum has become an international movement that attracts the attention of global leaders, thinkers, and media observers. The Intelligent Community Foundation consists of 126 cities and regions that have been designated as Intelligent Communities and which participate in an ongoing global dialogue to strengthen local economies. For more information, go to http://www.intelligentcommunity.org.
Intelligent Community Forum Contacts
Lou Zacharilla
Co-Founder Intelligent Community Forum
Phone: 001-917-715-0711
Email: lzacharilla(at)intelligentcommunity(dot)org
Paul Brent
Senior Communications Specialist
market2world communications inc.
Phone: 001-613-256-3939
Email: paul(at)market2world(dot)com