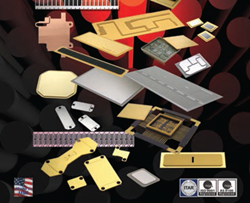 According to Chip Lehrer, President of PEI, " Our lengthy history in producing precision microelectronic package components has made us one of the world's leading suppliers of lids and covers to micro-electronic and semiconductor manufacturers.
Milford, MA (PRWEB) January 30, 2014
Using the photochemical etching process, the Precision Products Division of Photofabrication Engineering, Inc.(PEI) specializes in manufacturing step lids, flat lids and covers to hermetically seal high-reliability microelectronic devices using resistance welding. The company can now provide lids with getters screened or affixed to the lid for moisture or hydrogen absorption, which greatly increases the product life span. Both standard lid sizes and shapes--configured to meet almost every common specification--and custom-designed lids are available. Customers can input their own design requirements for custom lids using our Lid Generator Form.
PEI's lids and covers can be manufactured from a variety of base materials including Kovar, nickel alloys, stainless steel, cold rolled steel, titanium, and aluminum. There is a wide range of finishing/plating options available such as gold (per MIL-G-45204B Type III), electrolytic nickel (per QQ-N-290 ) and electroless nickel (per MIL-C-26074). Selective plating or etching of logos, part numbers or serialization is also available upon request.
PEI provides lids and covers to the microwave, aerospace, hybrid/OEM, defense/military, telecommunications/data communications, medical product manufacturing, solar power, and related industries. Our extensive history in producing microelectronic package components has made us one of the leading suppliers to microelectronic and semiconductor manufacturers.
Established in 1968, Photofabrication Engineering, Inc. is a world-famous American precision metals fabricator which has developed proprietary metal etching processes to create precision metal parts in thicknesses from 0.0005 in. to 0.125 in. The firm is ITAR compliant and holds ISO 9001:2008 and AS9100 certifications. The Precision Products Division serves myriad manufacturing industries including aerospace, automotive, battery, consumer electronics, defense, fuel cell, medical (devices as well as implantables), microelectronics, semiconductor, and telecommunications.
All of PEI's products are proudly made in the USA, and PEI guarantees short lead times, quick response to customer needs, and products that meet the highest quality standards. For more information about Photofabrication Engineering and its manufacturing capabilities, visit our web site . Photofabrication Engineering, Inc., 500 Fortune Boulevard, Milford, MA 01757, phone 508-478-2025, fax 508-478-3582.