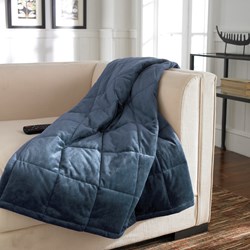 (PRWEB) January 28, 2014
Blankets are a staple in the winter months, but insulated blankets like ComfortTech 3M Thinsulate provide optimal warmth with twice the heat of a traditional down blanket. Add these blankets as an extra layer of bedding, or throw one on the couch for additional warmth while watching TV. A soft blanket makes any couch look and feel more cozy.
While snuggling up in a blanket is a must in the winter months, it's also important to block the freezing air from coming in and keep the warm air inside. Insulating curtains are a wonderful winter accessory, but if changing the décor is not desired, try lining existing curtains with insulating liners. Liners like the Season Smart curtain liner also contain 3M Thinsulate for superior warmth without the added bulk. Curtain liners can be easily added to any décor, and winterize the home without changing any of the design.
For an even easier winter fix, try reversing the direction of ceiling fans. This will push the warm air down and keep it circulated. No ceiling fans? Keep something yummy baking in the oven. The heat from the oven will help keep the room warm and delicious baked goods will make any cold day a little more toasty.
For more tips and tricks, visit Homestyle Brands.