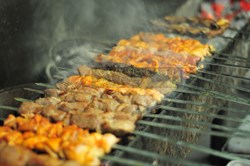 The Perfect Dining Atmosphere
Brooklyn, NY (PRWEB) January 27, 2014
"Unstintingly Fresh"—The Village Voice
The fish is grilled whole, not sautéed, so that the rich, smoked flavors are locked in. The Village Voice calls Nargis Cafe's grilled trout "unstintingly fresh," "of mutant size," and "crackling and succulent"—while calling the rest of the tantalizing menu items "delicious" and "superb."
To complement this healthy and tasty dining choice, the grilled fish are served over a delicious vegetable mélange, so that you can keep your healthy new year's resolutions—and still enjoy robust dining.
"We are committed to providing menu variety and exceptional value for our patrons, which is why we have expanded our menu's fish offerings," said the Nargis Café's founder and chef-extraordinaire Big B. "There're few things better than grilled fish to beat the winter's chill."
"The Perfect Dining Atmosphere"
But it's not just our menu that's gotten bigger — the dining room's also been enlarged to capably handle even our busiest nights, no matter the size of your dining party. As part of the Nargis Café's client commitment, we've renovated to enhance our exceptional menu. Said Chef Big B: "We've completely renovated and expanded our dining room to create the perfect dining atmosphere to enjoy our authentic central Asian cuisine."
The new dining room features elegant Uzbek wall tapestries, discreet lighting, a warm and vivid color pallet, and private tables for romantic dining. "Our dining room is ideal for couples and families—there's great food for everyone—and a wonderful dining room to enjoy our classic cuisine in," said Big B enthusiastically while flipping a whole trout on the grill (using both hands!)
First Choice for The Cooking Channel
The word's out. The Nargis Café's superb cuisine has been noticed by the Cooking Channel. Hearty Lagman Soup—made with enormous hunks of lamb and beef and homemade noodles—was recently featured on the Cooking Channel's show, The Culinary Adventures of Baron Ambrosia, "Scent of a Baron" episode, which featured some of the best in central Asian cuisine.
The hearty stew recipe featured here, to hold you over until you can make it back to the Nargis Café!
See Why The Americans Love the Nargis Café
In 2013 the Nargis Café was chosen for an on-location shooting of the wildly popular spy show The Americans, which airs on FX network and stars the ever-lovely Keri Russell and the handsome Matthew Rhys as everyone's favourite husband and wife spy duo.
"You know you have an authentic central Asian restaurant when a great show about cold-war spies wants to film in your restaurant," beamed Chef Big B. "We were so happy to have the cast and crew enjoy our cuisine while they worked, and we welcome them back any time," he continued.
Come down to Brooklyn to discover what the Village Voice, the Cooking Channel, and the cast and crew of the Americans already knows—that our food is hearty, fresh, generously portioned, and value-friendly!
New York's best Uzbek restaurant was established in 2007 by our chef and owner Big B. Since then, the Nargis Café has become a staple for New Yorkers and international visitors alike and has garnered consistent acclaim from New York's restaurant critics. Once, the Nargis Café was Brooklyn's best-kept secret—now we are a destination for foodies the world over. When you walk through the doors, you are immediately exposed to the best of central Asian cuisine and culture in our dining room's cozy, elegant ambience. Experience fresh, authentic central Asian cuisine - Nargis Café.
Big B, Chef and Founder
The Nargis Café
2818 Coney Island Avenue
Brooklyn, NY 11235