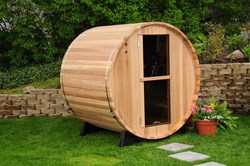 "We know we are doing something right, because our barrel design is being imitated."
Renick, WV (PRWEB) January 24, 2014
Sales for Almost Heaven Saunas have doubled since 2012 reported Rick Mouw, CEO of the West Virginia-based company. "Business is booming for our handcrafted barrel saunas, and we are working overtime to keep up with the demand," Mouw said.
There are more than 1 million saunas in the United States now, and saunas are becoming a popular item to include in new homes, because of the increased emphasis on a healthy lifestyle. Many people think that saunas are too expensive, a luxury only for the rich, Mouw said. "But that's a misconception. Almost Heaven Saunas are affordable, and we provide a variety of models and sizes for any budget and lifestyle."
Almost Heaven originated the unique barrel sauna design nearly four decades ago and has become a world leader in genuine steam saunas. The company stands out as a U.S. manufacturer because every component has been identified as being top-of-line. It has not "outsourced" its work. Almost Heaven Saunas are made in West Virginia by skilled American craftsmen, using top-quality western Canadian red cedar.
"We know we are doing something right, because our barrel design is being imitated," said Mouw. "The problem is that the cheap-labor versions manufactured in Asia and even in other parts of North America often use inferior materials and do not guarantee their product. Our saunas come with a lifetime warranty."
The barrel design allows the sauna to be used indoors or out. Outdoors, it sheds rain, can withstand heavy snow, and needs no ongoing maintenance. Unlike other sauna designs, the circular design of the barrel sauna is very efficient, heating up fast, and distributing the heat evenly.
"Our barrel saunas are now making customers happy and healthy all over the world," Mouw said. "No other sauna in the world matches ours for quality and performance. You can see photos of some of the beautiful sauna locations on our website and Facebook."