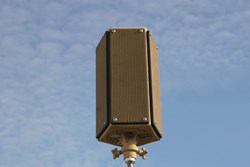 We are very excited to see the exponential growth we are having in the HPSA market.
Columbia City, Indiana (PRWEB) January 23, 2014
Ultra Electronics - USSI announces today that it has received a sizable order from a large United States military base for High Power Speaker Arrays (HPSAs). Ultra Electronics - USSI MA-1 speakers were chosen due to their exceptional acoustic performance and track record of deployment throughout world-wide theater fixed military bases and mobile combat outposts.
The large United States military base purchased the HyperSpike MA-1 speakers and will be used to project audible emergency messages and alert tones to the entire base. The MA-1 has a peak acoustic output of 138 dB and has industry leading voice clarity, with a Speech Transmission Index (STI) of 0.91 out of 1.0. The MA-1is best in class for size, weight and acoustic output with regards to competitive HPSA speakers offered on the market. HyperSpike MA-1speakers can be mounted easily on top of buildings or existing structures without extensive mechanical structure. Due to the speakers lightweight, engineering and architectural studies are eliminated, allowing for drastically reduced installation cost coupled with lowest total life cycle costs.
"We are very excited to see the exponential growth we are having in the HPSA market," said Jeffrey Boger HyperSpike's HPSA & Commercial Sound Marketing Manager. "Customers are looking for ways to get the most out of there HPSA products. With our light weight design, exceptional product quality, and voice clarity the marketplace is clearly taking favor to our design and performance."
The MA-1 can be heard one mile away if placed twenty-five feet and can be heard 1.5 miles away if placed at fifty feet high from the ground. The MA-1 speaker is the ideal choice for customer needing giant voice for college or corporate campuses, industrial complexes with high background noise, and large outdoor sport facilities.
Ultra Electronics USSI is an innovative global supplier of highly intelligible, ruggedized, long range acoustic communication devices and mass notification systems. Being deployed world-wide, these products are used in diverse applications such as crowd control, mass notification, border/port security, law enforcement, maritime security, perimeter protection, and more. To find out more or request a demonstration, please visit http://www.ultra-hyperspike.com.