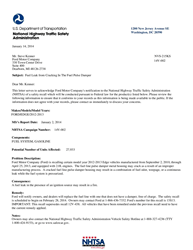 It is the manufacturer's job to make sure that their product is safe
Charleston, IL (PRWEB) January 23, 2014
Personal injury law firm Tapella & Eberspacher is questioning Ford Motor's commitment to safety after more than 27,900 Ford Edge vehicles manufactured between Sept. 2, 2010, and April 25, 2013 were recalled due to a fuel leak. This is the third recall Ford has announced in 2014.
"It is the manufacturer's job to make sure that their product is safe and no one should ever have to be concerned with how safe their brand new vehicle is," said Stephen Friedel of The Tapella & Eberspacher Law Firm. "It is unfortunate Ford fell short of the appropriate standards which led to safety issues as well as an inconvenient recall for Edge owners."
According to the National Highway Traffic Safety Administration recall campaign number 14V002000 the fuel line pulse damper metal housing could crack as a result of an improper manufacturing process. If the fuel line cracks it could result in fuel odor, seepage, or a continuous leak; a fuel leak in the presence of an ignition source could result in a fire.
The National Highway Traffic Safety Administration recall campaign number 14V002000 notes that no accidents, fires, or injuries have been reported as a result of the fuel leak. Ford will be notifying affected vehicle owners and dealerships will replace the fuel line free of charge. The safety recall is schedule to begin on Feb. 28, 2014, however, owners may contact Ford at 1-866-436-7332 and reference recall number 13S13 for further information.
About The Tapella & Eberspacher Law Firm
Tapella & Eberspacher's superior reputation for quality, personal service and results is the foundation for our premier status. Based in Illinois but handling cases throughout Illinois and Missouri, our lawyers focus on personal injury, including medical malpractice, auto accidents, trucking accidents, nursing home negligence, and dangerous products. The Tapella & Eberspacher Law Firm have the experience to guide their clients through the entire personal injury litigation process along with the determination and confidence to help fight for the maximum injury compensation amounts for their clients. For more information or to schedule a free case review, visit foryourjustice.com or call (855) 522-5291.
Tapella & Eberspacher
6009 Park Drive,
Charleston, IL 61920
855-522-5291