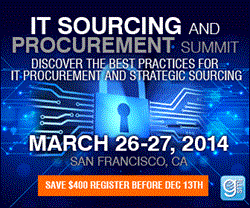 ITSPS 2014 will showcase some of the industry's top innovators, leaders, and frontrunners.
San Francisco, CA (PRWEB) January 23, 2014
Two new speakers from Verizon and Xerox have been added to the agenda for the IT Sourcing and Procurement Summit hosted by GSMI at the Marines' Memorial Club, in San Francisco this March 26-27.
Luke Marples, Sr Member Technical Staff, Verizon Wireless, will be presenting "IT Asset Management: The Untapped Resource for IT Sourcing And Procurement." Luke will cover how to translate and align IT Asset Management goals into sourcing and procurement goals. This presentation will help IT asset managers get an insider's guide to ways to attain the information you need from the sea of data obtained by a typical ITAM team.
Luke Marples has over fifteen years of hands on experience in IT. Luke began in IT Asset Management (ITAM) by building an ITAM program at Horizon Blue Cross Blue Shield of NJ before working for the Navy as an ITAM consultant in the Naval Criminal Investigative Service (NCIS) division. In June of 2010 Luke began working at Verizon Wireless to assist in developing a formal ITAM program. As part of the IT Governance, Risk and Compliance organization his current focus is ITAM strategy and program development. Luke has a Bachelor of Science in Industrial Engineering as well as a Master of Science in Engineering Management, both from New Jersey Institute of Technology.
Amy Watkins, Service Procurement Partner, Adobe will be presenting "The Competitive Bidding Process: How to Analyze RFP Submissions in Matching Products to Business Objectives." The session will outline the key drivers and variables to evaluate and appraise RFP bids in order to create a short list and choose the right vendor.
Amy Watkins is one of a select few Services Procurement Partners within Xerox' Global Purchasing Organization. She was appointed to this position, a new role at Xerox, in June 2012. In this role, Amy has provided dedicated purchasing support to the Xerox Business Services organization and to the Xerox Information Management organization. She is a key interface for business stakeholders and local bid teams and as such, has been responsible for the development and management of supplier relationships to deliver timely and cost-effective business solutions enabling Xerox to clearly demonstrate value to Customers.
As GSMI's premier IT event, ITSPS 2014 will showcase some of the industry's top innovators, leaders, and frontrunners. This two day event will provide workshops and applicable strategies for procurement and strategic sourcing professionals to utilize and make their company succeed.
Tickets are still on sale for the summit but seats are limited. Delegates must register before March 26th to guarantee seating. Group discounts are available.
About GSMI:
GSMI is a leader in the industry of executive education, global conferences, summits, and training sessions that combine rich learning environments with the opportunity to network with today's most relevant thought leaders, speakers and practitioners. GSMI's annual events have reached 85% of the Fortune 500 companies, in over 30 countries, and cover topics that today's leaders find most challenging and inspiring.