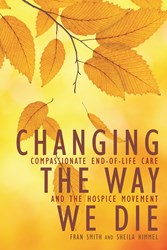 (PRWEB) January 23, 2014
In Changing the Way We Die: Compassionate End-of-Life Care and the Hospice Movement, award-winning journalists Fran Smith and Sheila Himmel investigate what hospice means to today's aging population and their families. It's the first book to take a sweeping look at the hospice landscape, reporting the stories of patients, caregivers and cutting-edge researchers, as well as the corporate giants that increasingly own this market.
Foreword Reviews called Changing the Way We Die "required reading for physicians, nurses, and anyone else—professional or volunteer—who provides care to those who are dying." For those who are not health care professionals, Foreword writes, "Superb writing makes Changing the Way We Die an easy read, even though the subject matter is anything but easy."
Foreword concludes that "This volume likely will change the way many people choose to confront death. Equally important, it may alter the way life can be lived today."
Fran Smith and Sheila Himmel were recently interviewed on A Good Goodbye with Gail Rubin, where they discussed "dying well."
Join the authors at events in the San Francisco Bay Area:
2/3: Kepler's Bookstore, Menlo Park at 7pm
2/4: East West Bookshop, Mountain View at 7:30pm
2/5: San Francisco Public Library, Main Branch at 6pm
2/6: Hospice of the Valley, San Jose at 1-3pm and 6-8pm
2/8: Book Passage Marin, Corte Madera at 4pm
What people are saying about Changing the Way We Die:
"If you invest a few hours in reading this book, it will help you avoid months of suffering for people you love in the days to come." —Stephen P. Kiernan, author of Last Rights: Rescuing the End of Life From the Medical System
"What lies upon these pages needs to be said, examined and hopefully addressed. I highly recommend this for anyone directly or indirectly involved with end-of-life issues." —Barbara Karnes, R.N. and author of "The Hospice Blue Book"
"The words of patients and hospice people that fill Changing the Way We Die reflect great wisdom and self-honesty." —Joan Halifax, Ph.D., author of Being With Dying