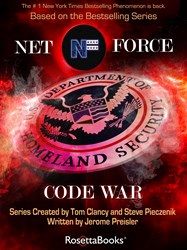 I am happy we can treat Net Force fans with an additional eBook, Jerome Preisler.
New York, NY (PRWEB) January 23, 2014
The No. 1 New York Times Bestselling cyber-terrorism series Net Force, created by Tom Clancy and Steve Pieczenik, is starting a new chapter with the publication of the Jerome Preisler-written original eBook Net Force: Code War.
The title recently reached No. 1 in the Technothriller category during its free eBook promotion in the Amazon Kindle store Jan. 17-21.
Preisler is the author of more than 30 books of fiction and nonfiction, including the long running Tom Clancy's Power Plays series, all of which debuted on the New York Times bestseller list.
"I am happy we can treat Net Force fans with an additional eBook," said Preisler.
In Net Force: Code War, the year is 2018. Prince Sami Mustafa of Birhan, who was educated in the West, finds enemies every direction he looks. Things are not as simple as oppositional factions, though. When a subversive plot from within tragically transpires, the United States threatens to step in. However, that places Americans in the crosshairs of a terrorist plot. The Net Force team must work furiously to decode the scheme and prevent the attack.
In 1999, the first of 10 Net Force books appeared, beginning a succession of international blockbusters consistently holding spots on the national bestseller lists. The Net Force series has pitted an elite nucleus of agents against antisocial hackers, greedy programmers, and other dastardly cyber-spooks. The thrilling series accurately anticipated such digital developments as smartphones and various forms of cyber-terrorism.
Net Force: Code War is available exclusively in the Amazon Kindle store or through the Kindle app for $6.99.
About RosettaBooks: RosettaBooks is the leading independent digital publisher. Its prominent author collections include 52 works of Winston Churchill, 35 titles by renowned science fiction author Arthur C. Clarke, 20 works by Kurt Vonnegut, 12 titles from international bestselling business author Stephen R. Covey and 18 works by Robert Graves, celebrated 20th century English poet, critic, and author of I, Claudius and Claudius, the God. RosettaBooks also publishes eBook lines in collaboration with AARP, Harvard Health Publications and Mayo Clinic. Publisher of ten Kindle Singles, including Ray Bradbury's The Playground, RosettaBooks has launched nine of them to bestseller status. RosettaBooks is an Inc. 500 company, on the exclusive list of the fastest growing private companies in the United States. For more information, please visit RosettaBooks.com and follow the e-publisher on Facebook and Twitter.