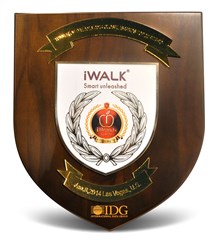 We know that trends will fade, but iWALK's quality will endure the test of time.
Las Vegas, NV (PRWEB) January 23, 2014
iWALK has once again garnered the Top 20 iBrands award. They received this honor at the Global iBrands Top 20 Award Banquet, sponsored by IDG in collaboration with International Data Corporation. The iBrands award is an official recognition of the companies that provide the "Best in Class" Apple accessories. This prestigious award ceremony was attended by more than four hundred media correspondents from all over the world. This is the second consecutive year that iWALK has received this accolade.
In recent years, the "i" device industry has evolved tremendously, possibly more than any other industrial sector. These changes have made Apple devices an indispensable part of everyday life. iWALK has gradually established itself as one of the most reliable and authentic providers of Apple accessories in the United States and Canada. With millions of satisfied clients, iWALK can boast of being a name to reckon with when it comes to purchase of iPhone, iPod and iPad accessories.
The proliferation and accessibility of technology has made the "i" market fast evolving, creative, but sometimes colorless. Companies battle for the same audience by focusing on price and design tweaks, but forget to embrace the essence that made Apple a synonym of greatness. "i" devices integrate a human element into everyday electronics, making them understandable and usable, and it is that human touch that inspired iWALK to create solutions for not only Apple users, but all consumers. Harris Bernstein, VP of iWALK, stated, "We believe that precise attention to detail and reluctance to be complacent can unleash smart, high quality solutions that embody the Apple culture. The rapidly evolving market will continue to bring new trends and challenges, including the need to be more compatible, reliable and accessible. iWALK anticipates those challenges through careful planning, listening to our audience and placing special emphasis on details. We know that trends will fade, but iWALK's quality will endure the test of time."
About iWALK:
Successfully sold in more than 40 countries, iWALK manufactures and develops innovative products, including docking and universal batteries, power cases, chargers, Bluetooth speakers and keyboards, and stereo headsets. Their accolades include the prestigious iBrand Award, received for 2 consecutive years (2013–2014) and given to only 20 companies worldwide, as well as Best Batteries of Show at CTIA 2013.