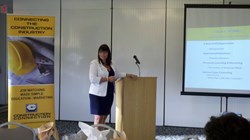 We will… be discussing legal and compliance concerns, the costs of high turnover rates within a business and why it is important to make the right hire the first time.
Miami, Fl (PRWEB) January 23, 2014
Suzanne Breistol, long-standing member of the SCORE Miami Dade chapter, is speaking on Recruiting, Hiring and Keeping the Best People at the SCORE small business workshop on Tuesday, January 28, 2014. As a professional business consultant and Co-Founder of the construction industry hiring and networking website ConstructionConnection.com, Breistol brings with her over 25 years of experience and knowledge on best business practices.
At the SCORE workshop, Breistol will work with small business owners to improve their hiring process from selection through retention of top-tier, well-suited employees. Breistol will be discussing the best sources and outlets to look for qualified candidates, how to recognize core competencies to ensure a good fit for specific positions and companies, as well as tips for conducting thorough, insightful interviews.
"Finding the right pool of applicants is just the beginning when it comes to hiring someone for an available job," Breistol explains. "We will also be discussing legal and compliance concerns, the costs of high turnover rates within a business and why it is important to make the right hire the first time. These are areas where a lot of business owners struggle; I see it all the time with my Consulting Simplified clients, and I work to help these businesses succeed."
The Consulting SimplifiedTM program is a part of Construction Connection in which Breistol and her partner Kent Leighton work with construction companies to improve operations and help businesses run more efficiently. Their site's unique job-matching tool was created because they believe so strongly in the importance of making the right hire. The duo has also partnered with DiSC and Prove It! by Kenexa to offer business owners and hiring managers tools to make sure their future employees are the right ones for the job. The Everything DiSC Workplace Profile provides insight into individuals' communication style and strengths in addition to management tools to help build strong, cohesive teams. Prove It! gives individuals the opportunity to demonstrate their abilities to use certain software and helps employers measure their skills in a meaningful way. Both tools are designed to give employers the edge in making the best hiring decisions.
Breistol will be speaking at 6:00 pm on Tuesday, January 28th at the Small Business Administration Offices on South Biscayne Blvd. in Miami. To learn more about the SCORE Miami Dade workshop or to register to attend the event, please visit their website.
About Construction Connection:
ConstructionConnection.com was created out of a need for a more effective and streamlined way for construction industry professionals to get matched with the right industry jobs and with the right industry opportunities. The founders of Construction Connection, both industry professionals themselves, listened to both company and individuals' dissatisfaction with the traditional job boards, the paid resume blasts, the overpriced resume services and overall lack of sympathy toward the individual candidate. They also listened to the dissatisfaction from companies who post jobs only to get many irrelevant results or have to purchase high priced ads to showcase their company. Construction Connection is a patent-pending, one-of-a- kind profile creating / match-making system. The system delivers effective results. Construction Connection saves time, money and aggravation by matching people to people, people to companies, companies to people, and company to company.