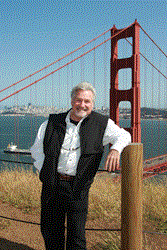 Tour directors are constantly on-the-go and the Yacht Tote has proven to be a perfect travel accessory.
San Francisco, Calif. (PRWEB) January 23, 2014
The International Tour Management Institute (ITMI) is proud to announce that Samsonite, the market-leading luggage brand, has once again become a sponsor of its 27th annual symposium. All participants will receive the popular Samsonite Yacht Tote, a practical, sturdy bag for carry-on items and day-to-day utility.
"Samsonite's sponsorship has created a loyal and dedicated fan base among symposium attendees," states Ted Bravos, CEO of ITMI. "Tour directors are constantly on-the-go and the Yacht Tote has proven to be a perfect travel accessory. Since becoming more fully acquainted with the Samsonite family of products, I strongly recommend Samsonite to all of my tour director alumni, who in turn influence the thousands of travelers they guide on tours around the world. As people who travel for a living, Samsonite has become our gold standard."
About the ITMI Symposium:
The ITMI Symposium is the only industry event that brings together tourism industry stakeholders including tour directors and guides, and leading domestic and international tour operators such as Globus Family of Brands, Tauck World Discovery, Adventures by Disney, Trafalgar Tours, Collette Vacations, World Strides, Smithsonian Student Travel, Princess and Holland America Cruise lines to name but a few. The event includes interactive seminars and educational programs that provide forward-thinking content about industry trends and mission critical technology. During the special "Marketplace," tour operators can interview tour directors from around the world for the forthcoming travel season.
About ITMI:
Since 1976, ITMI has been America's premier training and certification program for professional tour directors, guides and travel staff. For more information about ITMI or the Symposium, contact Annemarie Osborne Annemarie.Osborne(at)gmail(dot)com (800) 442-4864 (415) 957-9489 or visit http://www.itmisf.com.
ABOUT SAMSONITE
Samsonite is the worldwide leader in superior travel bags, luggage, and accessories combining notable style with the latest design technology and the utmost attention to quality and durability. For more than 100 years, Samsonite has leveraged its rich design heritage to create unparalleled products that fulfill the on-the-go lifestyle needs of the business professional. Samsonite markets products under the Samsonite, American Tourister, Samsonite Black Label, and Hartmann brands.
# # #