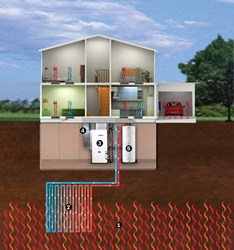 Poplar Bluff, Missouri (PRWEB) January 24, 2014
Geothermal heating and cooling systems are changing the green energy industry, as they offer homeowners a convenient source of energy that is unaffected by weather patterns, such as solar and wind energy. Many homeowners make the switch due to the increased energy efficiency, and therefore increased savings. For geothermal heating, Poplar Bluff homeowners report even temperatures during the coldest winter nights.
1. Geothermal systems range from 400-500 percent energy efficiency. Homeowners can save significantly on their monthly utility bills by replacing traditional systems, which max out in the mid-90 percent range of energy efficiency, with a geothermal heating and cooling system.
2. Geothermal heating and cooling units use the Earth's energy, which is accessible 4-5 feet underground. There are different loop designs available (vertical and horizontal), depending on the amount of land or yard size that is available. This type of energy is a constant resource that isn't subject to high or low temperatures, presence or lack of sunshine, or wind speed.
3. Geothermal energy is considered green because it doesn't require the use of fossil fuels, reduces the emission of greenhouse gases, and will lower the user's carbon footprint.
4. This type of system has a much greater lifespan than that of a traditional system. Due to the loop system being buried underground, undisturbed and not exposed to harsh weather conditions, and the unit itself being housed indoors, there will be minimal wear and tear. Geothermal systems require much less maintenance and repair as well.
5. Geothermal units provide very consistent heating and cooling. Homeowners enjoy consistent indoor temperatures all year long and superior humidity control.
For more information regarding energy savings with geothermal systems, homeowners should visit Home Comfort Geo at http://homecomfortgeo.com/.
About Home Comfort Geo
Home Comfort Geo is the leading source for geothermal statistics, technology, and innovation. Our dealers proudly serve residents throughout Illinois, Indiana, Kentucky, and Missouri.