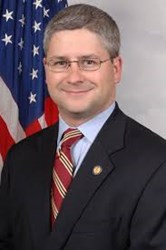 San Diego, CA (PRWEB) January 23, 2014
U.S. Rep. Patrick McHenry (R-N.C.) will deliver the Crowdfund Global Expo keynote, addressing recent legislative changes that affect crowdfunding and proposed JOBS Act rules. The Crowdfund Global Expo, hosted by Coastal Shows in San Diego Jan. 30 and 31 and sponsored by Crowdfund Intermediary Regulatory Advocates (CFIRA) and Ellenoff Grossman & Schole LLP, will feature expert speakers addressing the opportunities and challenges presented by debt, equity and commercial real estate crowdfunding.
"Congressman McHenry introduced the 2011 primary legislation to legalize equity crowdfunding in the United States and is one of the foremost experts on this game-changing movement," said Andrea Downs, CEO and Founder of Coastal Shows. "His insight will provide another educational component to this already valuable conference lineup."
In addition to Rep. McHenry's keynote, the conference will also feature a State of the Crowdfinance Industry Q1 2014 Press Briefing. At this briefing, Dr. Richard Swart, the Director of Research at the Program for Innovation in Entrepreneurial Finance at UC Berkeley, will release new data, statistics and predictions regarding the peer-to-peer and investment crowdfunding markets. Media interested in attending the conference or remotely dialing in to the press briefing should contact Stephanie(at)Leverage-PR(dot)com.
"Our recent research conducted in the United States, United Kingdom and Europe shows the incredible impact that successful crowdfunding has on businesses," Dr. Swart said. "It opens the doors to other forms of investing and loans and leads to significant increases in revenues. The debate about whether crowdfunded companies can co-exist with angels and venture capitalists is over – crowdfunding is the onramp to future funding and loans."
Industry panelists from a variety of crowdfunding initiatives, including private equity, debt and real estate professionals, will also be on-hand to lend their opinions throughout the conference and at the press briefing, and serve as expert sources. Some of those speakers include:

Anu Bhardwaj, founder, Women INVESTING in Women Institute
Doug Ellenoff, partner, Ellenoff Grossman & Schole LLP
Todd Lippiatt, CEO, Propellr
DJ Paul, founder, GATE Global Impact
Ethan Senturia, founder, Dealstruck
Ron Suber, head of Global Institutional Sales, Prosper
Chris Tyrrell, CEO, OfferBoard; Chairman, CFIRA
The industry saw over $2.2 billion in transactions filed within months of the October implementation of Title II of the JOBS Act, which lifted the ban on general solicitation. With the pending passing of Title III, which allows unaccredited investors to also participate in the market, this number is bound to increase.
Media wishing to procure a press pass to the conference, remote dial-in information for the press briefing or simply receive more information should reach out to Stephanie(at)Leverage-PR(dot)com or visit http://www.coastalshows.com.
About Coastal Shows
Coastal Shows operates as an international, full service media company providing top-tier, tech-related educational experiences in the form of multifunctional events and tradeshows. Coastal Shows aims to deliver an elite and informative experience that connects attendees through innovative panel formats and exclusive access to current industry professionals. Coastal Shows' team includes previous founders of the most prominent private conference, tradeshow and business publications media company in the wireless industry.