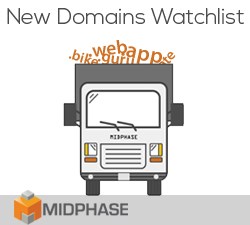 Our watchlist takes care of the heavy lifting by getting you at the front of the registration line.
Salt Lake City, Utah (PRWEB) January 23, 2014
As ICANN begins to launch over 700 new domain names, Midphase is giving their customers the opportunity stay ahead of the game with their new domain watchlist. The watchlist allows all Midphase customers to pre-reserve domain names, access exclusive release phases and be notified when their desired domain names become available.
With the public launch of the new domains just weeks away, business owners everywhere are preparing for an unrepeatable opportunity to grab some of the best new real estate on the Web. The launch is set to be one of the biggest events for the Internet in years. With the TLD watchlist, users will be able to oversee all domain developments from within their account. Not only this, but if they pre-register domains they are interested in securing, Midphase will proactively attempt to secure those domains. During the last major launch of a new domain extension, Midphase had an 87% success rate in registering domain names for their participating customers.
"Once these releases arrive there is going to be a flood of excitement with people getting fresh new domains," said David Anderson, the marketing director for Midphase. "Each TLD has been applied for separately and has different availability conditions, so keeping track of them alone will be a big challenge. Our watchlist takes care of the heavy lifting by getting you at the front of the registration line, alerting you when new domains become available."
There are hundreds of domain extensions set for registration over the coming year, including many assigned to specific locations and industries. With each extension comes the opportunity to register the domain name you always wanted but had long been taken by someone else. Trademark holders can also benefit from the watchlist as most TLDs will have a designated period where they can register their trademarked name before anyone else does. The watchlist will help them to keep on top of the new arrivals so they can protect their businesses against imitation or fraud.
"This is going to be huge, and people will need to be ready if they want to make the most of it," smiled Anderson. "It's going to be hectic as all this new online territory opens up, but those who keep their eye on the prize will be well placed to get the domain name they want."
Those who are already customers with Midphase can create a watchlist by logging into their account and selecting the domains they are interested to register or pre-register. In doing so, Midphase customers will be in the perfect position to snap up some of the best new domain names.
About Midphase
Since 1998, Midphase has provided budget, shared, advanced and other types of Web hosting services to a wide variety of customers ranging from individuals to small businesses. Midphase is a subsidiary of the UK2 Group, a significant player in the European and U.S. Web hosting markets, providing domain registration and affordable website hosting to customers globally. Utilizing state of the art data centers, Midphase is able to provide advanced security and high availability to customers at an affordable price. Midphase is committed to providing reliable, cutting-edge products and services at a great value, underpinned with superior client support. For more information about Midphase, visit http://www.midphase.com.