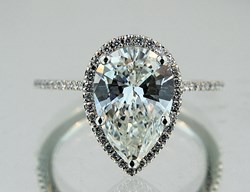 (PRWEB) January 27, 2014
Buchroeders Jewelers, a leading purveyor of top quality diamonds, engagement and weddings and other fine jewelry, is warming up this Valentines season by offering an even better return for a diamond ring purchase from Buchroeders!
Anyone who purchases a diamond ring between 1/13/14 and 2/27/14 will be eligible to have their purchase refunded up to $10,000. There is a guaranteed winner!
"Even if the purchased ring was more than $10,000, the individual can definitely save a huge amount of money if they win with our Ring Giveaway," said a Buchroeders representative.
On the night of 2/27/2013, Buchroeders will host a private party for those who purchased a diamond ring between 1/13/14 and 2/27/14. Buchroeders will randomly draw a receipt number from the pool of eligible customers. The person's receipt number that is read, and who is in attendance at the party, is the winner. Buchroeders will write a check on the spot to the lucky winner up to $10,000. As long as their purchase was $10,000 or less the ring is 100% free.
"With Valentines just around the corner, this is a great opportunity to get that ring you've been eyeing for your loved one," he said.
For more details, click here.
About Buchroeders
Since 1896, Buchroeders has been the leading provider of diamonds and engagement rings in the Midwest. Over the years, Buchroeders has transformed from a traditional jewelry store into a modern high-volume bridal boutique. But what hasn't changed is their focus on exceptional customer service and great deals. They will never be undersold by any online or brick and mortar store. Buchroeders strives to be the best jewelry store for gorgeous diamond jewelry. For more information, contact Jeremy Knox at 573-443-1457.