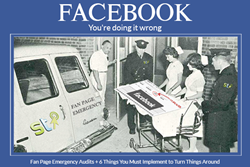 Most small business owners in the U.S. say a lack of time is the major stumbling block to implementing their own consistent Facebook marketing program
(PRWEB) January 23, 2014
"Most small business owners in the U.S. say a lack of time is the major stumbling block to implementing their own consistent Facebook marketing program, or initiative, making it difficult to build a credible social web presence in addition to traditional offline marketing programs," says Simon U. Ford, Founder of Social Traffic, Inc.
Recognizing the need for smaller businesses to be able to leverage the Facebook media platform to build their business, Social Traffic, Inc. a seven year old full service social infused reputation marketing agency, launched it's newest Facebook marketing service for smaller businesses. Ford says, "This service is pain relief for social marketing headaches."
You can read the full sales presentation here.
Social Traffic, Inc. is a Social Marketing Agency founded in 2007 offering small businesses help in establishing proven, social infused reputation marketing systems for dramatic and sustainable growth. Founder Simon U. Ford has authored multiple social marketing related books, including "Social Traffic –– Marketing in our New Mediascape"; quoted by some readers at the time of its launch 6 years ago, as the best book on social marketing ever written.
In 2007, Simon was highlighted for dominating a Google product launch in search results; "using social signals Simon outranked Google's own pages, holding positions #1 and #2 (for 9 months) in YouTube search results for Google's own product (Google Friend Connect)". Seven Google developer videos ranked behind Simon's in positions #3 through #10 – a rare accomplishment.
You can learn more about Social Traffic Inc here.