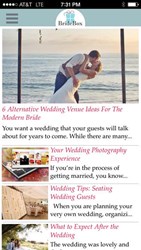 Palo Alto, CA (PRWEB) January 29, 2014
BrideBox, a direct to bride professional wedding album company, has launched its new mobile app, BrideBox Magazine, as a free download on iTunes and Google Play. Users are able to access hundreds of articles covering all aspects of planning a wedding in a sleek, easy to use interface. Topics range from how to select the right wedding photographer to fun food trends to try, and so much more.
"Thousands of brides visit the BrideBox blog on a monthly basis to read our informative and exciting articles, so we have decided to make this content also available to brides on-the-go. We have launched the BrideBox Magazine app which gives brides the opportunity to access all of our great wedding articles in a user-friendly app," says Bryan Passanisi, BrideBox Marketing Manager.
Whether you are a bride-to-be, maid of honor, wedding planner or wedding guest, the free BrideBox Magazine app is a fantastic resource to help answer any questions you may have about the ins and outs of the wedding industry. BrideBox Magazine is constantly updated with new, relevant content and includes articles, guides, e-books, photos, and videos.
The app can be downloaded at the iTunes Store and Google Play.
About BrideBox
BrideBox is devoted to helping couples design their own wedding albums. The BrideBox line of wedding albums offers unmatched quality, without sacrificing top photo finishing that mark a professionally produced album. Through the BrideBox software platform, couples can create albums produced with the same individual attention of imaging professionals for a significant cost saving.
BrideBox is a division of DigiLabs, Inc., a privately-held company that creates superior photo products available through professional photographers.
To download the software application, visit http://www.BrideBox.com.