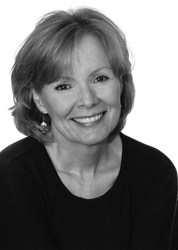 Claremont, Calif. (PRWEB) January 23, 2014
Scripps College presents "An Evening of Perspective" with author, columnist and political commentator Peggy Noonan as part of the 8th Annual Elizabeth Hubert Malott Public Affairs Program. Noonan will comment on current events at 7:30 p.m. on Feb. 6 in Garrison Theater of the Scripps College Performing Arts Center, 231 E. Tenth St. The event is free and open to the public.
Noonan is a widely admired columnist for The Wall Street Journal and the best-selling author of eight books on American politics, history, and culture. In 2008, the National Journal dubbed Noonan's political column indispensable to an understanding of the presidential year, and Forbes magazine called her column "principled, perceptive, persuasive, and patriotic." Noonan's essays have appeared in Time, Newsweek, The Washington Post and other publications, and she provides frequent political commentary on television.
Priority seating will be given to members of the Scripps community with their Scripps ID. All other seating will be available on a first-come, first-served basis. For more information about this event, contact the Office of Public Events at 909-607-9372 or visit http://www.scrippscollege.edu/malott.
The Elizabeth Hubert Malott Public Affairs Program, established by the Malott family in memory of Elizabeth Hubert Malott '53, makes manifest her belief that a range of opinions about the world — especially opinions with which we may not agree, or think we do not agree — leads to a better educational experience. Although the primary audience for this annual program is the Scripps College student body, all members of the Claremont community and the general public are welcome.
Arrangements for the appearance of Noonan made through Greater Talent Network, Inc., New York, N.Y.
Scripps College was founded in 1926 by Ellen Browning Scripps, a pioneering philanthropist and influential figure in the worlds of education, publishing, and women's rights. Today, Scripps is a nationally top-ranked liberal arts college and women's college with approximately 950 students, and is a member of The Claremont Colleges in Southern California. The mission of Scripps College is to educate women to develop their intellects and talents through active participation in a community of scholars, so that as graduates they may contribute to society through public and private lives of leadership, service, integrity, and creativity.