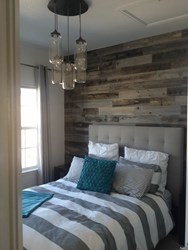 Sacramento, CA (PRWEB) January 28, 2014
Stop browsing for the ideal pinterest-inspired room and try Stikwood! The perfect DIY project for any home, office, or commercial space.
From January 1st to February 13th, all Stikwood orders will be entered to win up to a $500 refund on their order. Depending upon the size of the order, up to $500 will be rewarded back to their account. Two winners will be announced on February 14th, 2014.
Established in Sacramento, CA, Stikwood is the world's first peel and stick wood planking that can be applied to any interior surface within minutes. Stikwood offers 11 different types of wood planking that can give any room, any style from a contemporary feel, to a more rustic feel. Additionally, designing a surface with Stikwood is completely customizable. Creating various patterns with Stikwood can help achieve just the right style for a room.
Whats more? Stikwood is sustainable, VOC-free, environmentally friendly and made in the U.S.A. It's an innovative way to transform any room without needing the help of a professional.
Completely customizable, economically and environmentally friendly!
Stikwood gives anyone from professional designers to amateur home remodelers a chance to DIY!
Feeling inspired? Visit the Facebook page to see a few ways Stikwood can be incorporated into any space.