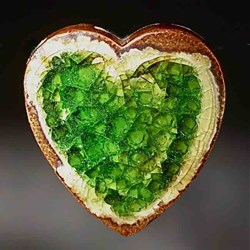 Pottery really is so versatile! I am renewed to see that after so many years, our customer base keeps growing and our team is able to meet an ever-wider range of needs.
Ferndale, WA (PRWEB) January 23, 2014
With the rush of the holidays behind us and Valentine's Day on its way, the simplicity of small reminders is all the more powerful during these quiet winter days. While we are full of new resolutions to cherish what matters most, customers are finding elegant tokens of love and commitment in this creative, eco jewelry and earth-friendly gift line.
A Heart Key Chain is the perfect reminder for resolutions to keep and hold dear. Touched every day, it is a delight to feel and carry. The Wall Hooks Heart is a dazzling symbol to proclaim that Home is where the Heart is. For lovers, both new and long-standing, the Heart in Hand Ring Holder makes a great Valentine's Day gift for him or her. Each handmade item is crafted with love, and the care and attention to detail shine through.
A purchase from Paloma Pottery supports not only beauty, but care for the earth and social justice as well. All of Paloma's revolutionary recycled glass pottery utilizes discarded, broken glass by melting it into layered radiance beneath the smooth surface. That means less trash is sent to landfills and recycling plants. Their packaging comes from Distant Village, a sustainable packaging company whose practices earned the company the "Most Innovative 3S Program" award from Global Sourcing Council. Locally, Paloma Pottery employs those with varying skills (the 'other-abled') to support the production of these fine pieces.
Paloma Pottery just celebrated 14 years in business. Founder Nicole Whitney has made this "labor of love" an enduring symbol of a life of purpose and abundance. "I am renewed to see that after so many years, our customer base keeps growing and our team is able to meet an ever-wider range of needs," she says.
Right now, shoppers will find great deals on heart shaped gifts, with items available in a luscious range of colors. A visit to their Crackle Glass Pottery Color Board page shows the true brilliance of this design technique. Each combination of clay and glass evokes a unique feeling - so shoppers should be able to easily find the ideal gift.
As always, first-time shoppers at PalomaPottery.com are given the gift of free shipping on their order. It is the mark of quality, along with excellent customer service, that keeps customers coming back year after year. "Once someone makes a small purchase, I am surprised at how often they come back for a whole range of items," Whitney exclaims. "Pottery really is so versatile!"
So, make the heart happy. Visit PalomaPottery.com to enjoy all the gorgeous and imaginative possibilities.
About Paloma Pottery:
Paloma Pottery has been online for 13 years now, and the mark of endurance shines through its work. Continually improving and expanding her line, Founder Nicole Whitney has grown Paloma Pottery into a thriving artisan presence. For those who are seeking exceptional quality gifts with a unique, eco-friendly design as well as solid business ethics, PalomaPottery.com is the place. For more information, please visit http://www.palomapottery.com or call 877-669-0783.