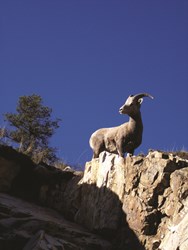 "This language is welcome news to wild sheep conservationists," said WSF Conservation Director Kevin Hurley.
Cody, WY (PRWEB) January 23, 2014
The Wild Sheep Foundation (WSF) acknowledges and thanks the House and Senate members of the respective Appropriations Subcommittees for Interior, Environment and related agencies for their recent efforts at compromise on wild sheep conservation.
The final fiscal year 2014 funding bill for federal agencies emerged from House and Senate negotiations Jan.13, and directs collaboration among federal agencies. This avoids the unintended limitations or delays that earlier draft language would have imposed on the U.S. Forest Service and the Bureau of Land Management wildlife biologists and range managers in analyzing and assessing where domestic sheep and goats are grazed on public land grazing allotments.
Paraphrasing language found in the Interior and Related Agencies division of the FY14 omnibus spending bill, "…the U.S. Forest Service, Bureau of Land Management, and Agricultural Research Service are all urged to collaborate on research involving the risk of disease transmission between domestic and bighorn sheep." "This language is welcome news to wild sheep conservationists," said WSF Conservation Director Kevin Hurley. "We feel this was a favorable outcome after considerable discussion in the halls of Congress. This language continues to reinforce our concern over the need for effective separation between domestic sheep and goats, and wild sheep."
The omnibus spending bill covers the rest of the current federal fiscal year. It is advancing easily in Congress and is likely to reach final passage by the end of this week and President Obama is expected to sign the bill.
"The Wild Sheep Foundation mobilized its presence in Washington through members, WSF Chapters, and WSF staff to help shape this language," said WSF President and CEO Gray N. Thornton. "With all the difficulties Washington has in agreeing on many tough issues, in this case, House and Senate members made a positive step with this compromise language. We particularly want to thank former House Appropriations Subcommittee Chairman Rep. Mike Simpson (R-ID) for his efforts and willingness to arrive at language which the Wild Sheep Foundation can support."
The Wild Sheep Foundation (WSF) Convention and Sporting Expo, The Sheep Show™, returns for the 24th show in Reno, NV this week and will be at the Peppermill Resort Spa-Casino and the Reno-Sparks Convention Center January 23-25, 2014. For a full schedule of events or to join as a member with the WSF and the conservation and education programs, please visit http://www.wildsheepfoundation.org, contact 800-OK-FNAWS (800-653-6297), email info(at)wildsheepfoundation(dot)org or visit Facebook.com/wildsheepfoundation.
The Wild Sheep Foundation was founded in 1977 by wild sheep conservationists and enthusiasts. With a membership of more than 5,000 worldwide and a chapter network in North America, WSF is the premier advocate for wild sheep, wild goats, other mountain wildlife, and their habitat. Since forming in 1977, the Wild Sheep Foundation and its chapters and affiliates have raised and expended more than $90 million on conservation, education and conservation advocacy programs in North America, Europe and Asia. These and other efforts have resulted in a three-fold increase in bighorn sheep populations in North America from their historic 1950-70s lows of an estimated 25,000 to 80,000 today.
###