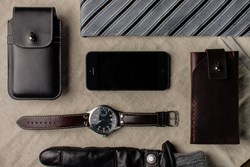 Markham, Ontario (PRWEB) January 23, 2014
Blacksmith-Labs introduces smartphone owners to a superior leather holster for Apple iPhone 5/5s/5c. With a minimalist design and functional yet attractive materials, our products and collections suit a taste for quality and class.
Developed by veterans of the phone holster industry, Blacksmith-Labs strives to provide the best belt clip holster on the market. The brand is a Kickstarter project success, and makes its name by concentrating on fundamental design, while discarding non-essential elements of other holster products. With the simplicity of leather and metal, Blacksmith-Labs is redefining character, traditions and craftsmanship.
Leading the way among the Blacksmith-Labs collections is the Horween Signature Collection. Horween Leather Company is Chicago-based, and brings more than a century of technique to the Blacksmith-Labs design. The leather itself is indescribably supple, and makes an excellent base for our minimalist design.
The Barrett Collection is all about tradition with a classic look and elegant lines. While there is some degree of uniformity, your Barrett holster is truly one of a kind, as every piece of leather features a unique texture. Finishing with an ultra fine stitch, holsters from the Barrett Collection are refined, and durable enough for everyday use. This collection includes a holster made with the Horween leather.
As the ultimate expression of minimalism, the Bruno Collection holsters use only one piece of leather so that they can be as thin as possible. The hand stitching provides protection for your phone, as well as a comfortable fit. With a metal button stud, holsters from the Bruno Collection exemplify utilitarian style. Like the Barrett Collection, the Bruno includes a piece made of Horween leather.
Few materials can claim the staying power of leather and metal. As a fine alternative to the lower quality synthetics of other holsters, the Blacksmith-Labs pieces feature the warmth and durability of leather, along with the glint and strength of metal. In fact, the metal alloy belt clip is one of the major ways that our products set themselves apart. Unlike weaker plastic belt clips, ours withstand the repeated force that holster belt clips experience.
The leather gives your holster that look of tradition. The tanning process ensures that no other piece will be exactly like yours, letting you find a holster that perfectly suits your everyday style.
Learn more about the Blacksmith-Labs iPhone 5/5s/5c leather holsters when you explore our site, and help us redefine character, traditions and craftsmanship.
About Blacksmith-Labs
The Blacksmith-Labs brand is owned by Exati Technologies Inc., with a mission to create the best smartphone leather holster in the world, with unsurpassed craftsmanship and unparalleled durability.