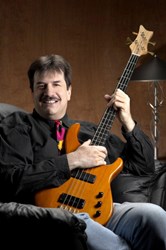 Marcus Miller told people that he wanted to be "the black Jeff Berlin."
Fort Lauderdale, FL (PRWEB) January 26, 2014
South Florida's premier modern jazz organization is thrilled to present The Jeff Berlin Trio on Saturday, February 8, 2014, 8:00 PM. This concert will take place at the Rose and Alfred Miniaci Performing Arts Center on the Nova Southeastern University campus, 3100 Ray Ferrero, Jr. Blvd, Davie 33314. Tickets are $40 ($15 for students) and can be purchased from the Broward Center box office by calling 954.462.0222, option #4 in Broward; or online at http://southfloridajazz.org.
Pre-concert musical entertainment will be provided in the courtyard in front of the Miniaci Performing Arts Center from 7:00 – 7:45 PM by the WDNA Jazz Bootcamp Ensemble, ages 11-17 under the direction of performer-educator Nicole Yarling.
JEFF BERLIN TRIO
Jeff Berlin is a virtuoso of the electric bass. Simply put, he is considered by many to be the finest bass guitar player in the world. Noted for his fluid, lyrical playing, he was also a pioneer of "slap bass" when he brought this percussive style of bass playing in 1979 to an entirely new audience on the tune cryptically named "5G!" Jeff also pioneered the two-handed tapping technique. In a sense, he is the Stanley Jordan of the bass guitar. While known as a major innovator through his incisive playing through recordings and performances for more than three decades, legendary electric bassist Jaco Pastorius actually regarded Jeff as a better soloist; and Marcus Miller told people that he wanted to be "the black Jeff Berlin."
Berlin's numerous credits include eight highly acclaimed solo records. The most recent is Low Standards, the sequel to High Standards, and could be the greatest bass album of all time. The title relates to Jeff's penchant for puns. The album employs Jeff's long-time confederate Richard Drexler, doubling on acoustic bass when Jeff is soloing (amazingly!) and then seamlessly switching instruments and playing extraordinary piano solos while Jeff plays time! This is ground never covered before and it is stunning. Drums? Oh, yes, there are drums. Mike Clark, best remembered for his contribution to Herbie Hancock's Headhunters band, plays spectacularly with the trio. His playing is crisp and hip, locking tightly with the bass(es).
Many have said that they have never heard anyone play with Jeff's melodic fluidity. He is making new fans all the time, while his playing continues to influence a new generation of bass players. His teaching continues to inspire and advance players wishing to know about the language of their art. Jeff Berlin is a master.
ARTISTIC PERSONNEL 
Jeff Berlin – electric bass guitar 
Richard Drexler – piano and acoustic bass 
Mike Clark – drums
Funding for this organization is provided in part by the Broward County Board of County Commissioners as recommended by the Broward Cultural Council.