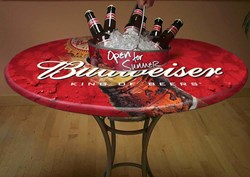 (PRWEB) January 23, 2014
Animal Marketing, a marketing agency out of Los Angeles, California introduces their newest patented innovation, The MagneticSkins Bucket Tables.
MagneticSkins are perfect for restaurants, bars, stadiums, events, and experiential marketing. They can even be changed out in a snap to feature your many brands, events, or campaigns.
In January 2014, Animal Marketing announced their newest innovation; The MagneticSkins Bucket Tables. This product is a truly novel concept where an ice bucket will sit directly inside a hole in the center of the table.  Taking it a step further, and whats undoubtedly doubly innovative, is the MagneticSkins. This is a magnetic top sheet which is printed in unlimited designs and changes out in seconds.
According to Lowell Bergman of PBS, "The NCAA March Madness attracts more than 140 million viewers annually; March Madness is a multi-billion dollar business. Only the Super Bowl is Bigger." This presents a huge market for bar and restaurant owners looking to further engage college basketball enthusiasts.
Animal Marketing has produced the MagneticSkins Bucket Tables for some of the largest beverages companies and brands in the world such as Bud Light, Budweiser, Corona Extra, Smirnoff Ice, and have recently made the transition into the home based consumer market. With the inclusion of 50 top NCAA Schools, Animal Marketing has its target on the sports fanatic and their desire for licensed products. Each of the 50 schools from the Texas Longhorns, Florida State Seminoles, USC Trojans all have independent football and basketball offerings with new different theme MagneticSkins sold separately.
Animal Marketing has over 2,000 tables inventoried in Southern California with printing and shipping capabilities for all custom MagneticSkins on-demand.
The MagneticSkins Bucket Tables are an unrivalled example of a perfect blend of ingenuity, practicality, resourcefulness, and as they say: Just A Better Mouse Trap.
Visit http://www.magneticskins.com to see why your "Good Times are Always Within Reach."