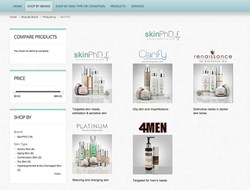 While most prestige skin care companies compete against their accounts by selling directly online, we offer our accounts the robust platform provided by DermPRO.
(PRWEB) January 24, 2014
Innovative cosmeceutical skincare provider SkinPhD, Inc. has partnered with aesthetics e-commerce and marketing specialists DermPRO to facilitate on-line selling of skincare products and services for SkinPhD partner practitioners.
SkinPhD, recognizing that ecommerce growth in the beauty and personal care sector outpaced overall sales growth in the sector by a factor of five in 2013, turned to DermPRO as the premier provider of ecommerce solutions for physicians and aesthetics practitioners in an effort to help its partners sell SkinPhD products and treatments online. Rather than selling "against" its partner practitioners online, SkinPhD is subsidizing its partners' online selling efforts by offering specialized DermPRO ecommerce and marketing packages that have been jointly designed by SkinPhD and DermPRO and priced just for SkinPhD partners.
"Our partnership with DermPRO is one more way for SkinPhD to demonstrate our operating principle of equipping our business partners (physicians, medspas, and spas) so that they may share in the success and prosperity of the company. While most cosmeceutical and prestige skin care companies compete against their accounts by selling directly online, we offer our accounts the robust platform provided by DermPRO. The DermPRO solution not only provides a state-of-the-art shopping cart for our partners; moreover, it is an exceptional marketing platform allowing them to offer exclusive promotions, offerings, and education to their patients and guests."
SkinPhD partners can choose a "Spa Plan" or "Physician Plan," each of which includes an online store customized for each practitioner's website and ongoing promotional and merchandising services from DermPRO. The SkinPhD-DermPRO Plans include turnkey features, such as custom, mobile-responsive and search engine optimized stores, a loyalty program, in-store merchandising and promotions, a merchant bank account, and hosting, monitoring and maintenance of the store.
Hormone Health and Weight Loss, a multi-location provider of total body and skin rejuvenation solutions, and Studio Aesthetics, a modern and beautifully-appointed spa in Covington, LA, are offering their clients the convenience of online purchasing using the SkinPhD-DermPRO ecommerce solution, with many others launching soon.
DermPRO and SkinPhD are continuing to work together to bring innovative solutions and options to their joint customers. The companies say they are developing a dynamic gateway feature that enables products to be drop shipped from SkinPhD directly to the end customers. This capability allows the companies to offer an inventory-less solution as an alternative to the current model in which the practitioners fulfill orders. The feature is scheduled to be available this quarter.
About DermPRO
Founded in 2012, DermPRO offers a turnkey, hosted ecommerce and marketing service designed specifically for dermatologists, plastic surgeons and medical spas. Marrying the power features of state-of-the-art ecommerce stores and merchandising with specialized aesthetics features, the solution is the easiest and most cost-effective way for aesthetics practitioners to sell and promote their products and services online. For more information, visit http://www.dermpro.com.
About SkinPhD
SkinPhD was founded in 2011 with the goal of bringing ground-breaking cosmeceutical skincare from South Africa to the U.S. market. SkinPhD is available through our dedicated network of physicians, luxury spas, and medspas. For more information on our products and cold laser therapies, to find a location near you, or for career information, please visit our website at http://www.skinphd.com.