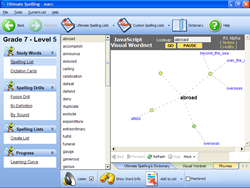 ...engagement with spelling activities ensures learning takes place while passing the time pleasantly.
New York City, NY (PRWEB) January 24, 2014
Ultimate Spelling™ has been reviewed by Ms. Krista, owner of the Heavenly Savings blog. Ms. Krista recently published her review for spelling software focused on Ultimate Spelling™, concluding with praise for its efficiency and appropriateness for teaching spelling to children irrespective of their age and spelling skills. The review emphasizes the importance of having an at-home educational source that allows students and even parents to improve their spelling skills at any time. One of Ultimate Spelling™'s features Ms. Krista focuses on is how organized the software is, something which has greatly helped her integrate it into her existing homeschooling classes. As she reveals to her readers, she no longer has to plan for the spelling part of her classes as the software offers ample material and activities to choose from.
The fact that the software allows for multiple user accounts is something Ms. Krista also finds useful. It allows her to create age- and level-appropriate word lists for each learner in her house so that each student practices and improves according to their own pace and abilities. The reviewer also emphasizes the multifaceted benefits of Ultimate Spelling™, explaining how it not only helps with spelling improvement but also allows users to improve and expand their vocabulary as well as learn new facts through the various games and activities available.
Apart from providing such a wide range of activities, the software has a progress tracking tool that helps to monitor the user's learning curve and adjust it accordingly. Ms. Krista finds the seamless combination of learning and fun to be the software's most impressive feature. As she reveals in her review, her 8 and 9 year old children are intrigued by the software and their engagement with spelling activities ensures learning takes place while passing the time pleasantly.
For more information about how Ultimate Spelling software can improve spelling performance for you and your family, please visit the official website at http://www.ultimatespelling.com.
About Ultimate Spelling™
Ultimate Spelling provides a modern and easy to use spelling software that has been designed with one goal in mind – making children want to learn.
It is a fast and easy way to master even the most complicated spelling, without the need to write long lists or complete boring tests.
In fact, Ultimate Spelling provides more than just spelling help. It is a complete educational resource that boosts all level of a child's literacy.
Containing a personal computer tutor, Ultimate Spelling is the most realistic step-by-step guide to flawless spelling ability.