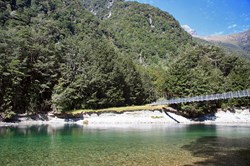 (PRWEB) January 24, 2014
Leading adventure tour operator, Active New Zealand, reports that demand for the Milford Track Guided Walk in the 2014/15 hiking season is set to reach unprecedented levels. "At this time of year, we start to see a transition from clients asking about travel for the remainder of this summer, to clients enquiring from October onwards. Early predictions are pointing towards a sell-out season, particularly for our Milford Hiking Adventure 'Manuka' trip," says Matty Yates, a New Zealand Travel Specialist.
The 14-day 'Manuka' is a small group hiking adventure with a strong focus on New Zealand's natural history, designed for those who appreciate their creature comforts and a high level of service. Clients hike on most days, from lush rainforest on the West Coast through the mountain passes of New Zealand's national parks. At the time of booking, clients have a choice of two multi-day options: hiking the 5-day Milford Track Guided Walk in its entirety, or walking part of it on the Active Great Walks Discovery that includes day hikes on three of the Great Walks and a cruise on Doubtful Sound.
The Milford Track is one of the longest established and best-known walking tracks in the country. It starts on the eastern shore of Lake Te Anau and crosses McKinnon Pass to Milford Sound, taking in glacial peaks, a mountain pass, New Zealand's highest waterfall and the dense rainforest of the West Coast. Hikers enjoy four days of exercise and great scenery as they walk from Lake Te Anau to Milford Sound. Everything is provided, including excellent meals at the mountain lodges, hot showers, bedding, specialist Milford Track guides, and even hairdryers in the bunk rooms (with upgrades to private rooms upon request). At the end of the 33 mile track, hikers then get to see Milford Sound, referred to by Rudyard Kipling as the eighth natural wonder of the world.
For those who choose the Active Great Walks Discovery option on the 'Manuka', they'll experience the diversity and grandeur of Fiordland National Park accompanied by their Active New Zealand guide. It begins with a memorable hike up Ben Lomond for incredible views of Queenstown, then a hike around Lake Marian to the Humboldt Falls in the Hollyford Valley. They'll visit spectacular Milford Sound and enjoy day walks on the Milford, Routeburn and Kepler Tracks (all Great Walks in Fiordland National Park) before finishing with a stunning overnight cruise on Doubtful Sound.
2014/15 departure dates for the Milford Hiking Adventure 'Manuka' trip are now published on the Active New Zealand website. As Matty points out, "It pays to keep an eye on the status of these trips and get in touch soon if you're thinking about coming along so we can pencil you in before the Milford Track permits run out!"
About Active New Zealand:
Active New Zealand is a Queenstown, New Zealand-based tour operator specializing in bucket list travel and small group adventures with unsurpassed personal service and attention to detail. Call Matty or Jodi to discuss travel plans and to request a brochure on 800.661.9073 (it's free!).