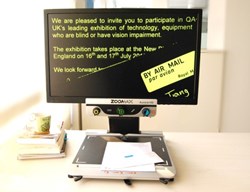 (PRWEB) February 11, 2014
Recently, Zoomax fully upgraded both the software and hardware of the Aurora HD. This latest version provides a sharper image, higher color contrast, a brand-new package, and a more attractive price.
When it comes to desktop electronic magnifiers, consumers are mainly concerned about the cost and performance of the magnifier. Such devices are great for visually impaired people to see clearer at home and work. When choosing the right HD desktop magnifier, customers should consider the ease of use, the quality of the image at any magnification, the contrast of colors and real time focus, and the price.
Those who suffer from eye problems such as diabetic retinopathy, macular degeneration, cataracts, glaucoma, and other diseases will find the design and available features of the Aurora HD very useful in everyday life. Users can read whatever they want clearly and comfortably, such as newspapers, magazines, medicine prescriptions, and mobile phones.
Since the launch of Aurora HD, it has been widely approved for its high cost-performance by distributors, low vision organizations, and end users worldwide.
Please contact Zoomax for more information.
About Zoomax
Zoomax Technology Inc, a global professional low vision equipment supplier, designs, manufactures, and sells the highest quality and most cost-effective electronic magnifiers. Their product range covers handheld, portable, and desktop magnifiers. Today, Zoomax has distributors in more than 40 countries. The Snow 7 HD is now available through authorized Zoomax global dealers. For more information on its products, availability, and other company information, please visit the Zoomax website at http://www.zoomax.co.
Contact information:
86-21- 50633955
Zoomax(dot)marketing(at)zoomax(dot)co
Facebook: Facebook.com/pages/Zoomax-Technology-Inc/296358023779839
Twitter: @ZoomaxMarketing
Google+1: plus.google.com/103200077460188065275/posts
Linkedin: linkedin.com/company/3543104