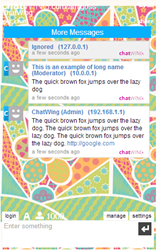 San Diego, CA (PRWEB) January 28, 2014
To support the growing rate of its user base, Chatwing Development Team has released new branding strategies for Facebook and Twitter. The goal of these strategies is to emphasize the importance of an embeddable and flexible website chat tool. Additionally, the developers also want to focus on the improvement of web communication through simple ways. Chatwing has focused on the following principles for the branding strategies in Facebook and Twitter:

Social media empowerment. Chatwing chat software focuses on the power of social media in the World Wide Web. Aside from that, the team also highlights the integration of Chatwing widget to Facebook and Twitter. Currently, visitors of the Chatwing chatrooms can log in with Facebook, Twitter, Instagram, and Tumblr accounts.
Lasting appeal to users. Chatwing chat room software has also emphasized that the widget has an overall lasting appeal to all users. This was done by highlighting the long-term effects of the live chat app once it is embedded to any blog or website. The chat tool is also progressive, since its developers are always thinking of enhancement ideas. These ideas are refined over months.
Connection to large goals. The Chatwing chat box widget may be a simple and straightforward tool, but it can be used to achieve professional goals. During the early release of the widget, Wordpress bloggers used it for web marketing and visibility purposes. This remains the same up to date, but people are finding more and more uses as the widget develops.
Using the Chatwing chat app tool can produce high-end results. Interested clients can visit the company's website to know more about the widget's functions.
About Chatwing.com
Chatwing.com is a company that has brought innovation to the modern chat widget. Operating for more than five years now, Chatwing and its team of developers have dozens of ideas ready to be introduced to the public. The Chatwing chat app is an easy-to-use online tool that can help web users interact with each other and can also generate continuous traffic. Chatwing will always be a "freemium" application for everyone.