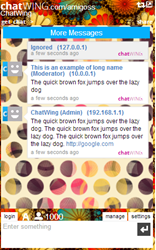 New York, NY (PRWEB) January 29, 2014
In the latest report gathered by Chatwing, the developers have pointed out a 125% surge of visits. These visits came from the Instagram community and prompted the developers to conduct routine maintenance checks to avoid lags. Chatwing chat box emphasized several reasons to this sudden surge:

The Instagram login system. By launching the Instagram login feature, dozens of users from the social network flocked to the Chatwing widget. According to Chatwing's moderators, these users are always looking for opportunities to share their works and reach out to different groups. Chatwing's tool has created the opportunity. The Instagram feature was launched right after the Tumblr login system.
Forum marketing campaigns. To increase the viability of the Instagram feature, Chatwing chat room software run different marketing and awareness campaigns in forums. The marketers emphasized the benefits of using Instagram as a login method. It has also been observed that the Instagram feature was positively received in forums that are covering lifestyle, travel, culture, and art.
Chat room app news and updates. Chatwing Team is fond of leaving important messages and updates in their chatrooms. There is a high chance that these messages were received by many users from different niches. Out of curiosity, they have tried the Instagram feature, thus resulting to the continuous influx of users.
Chatwing chat software will introduce more reports as months pass by. These reports are important in raising awareness about the importance of the web chat tool. Other updates can be seen in Chatwing's official Facebook page.
About Chatwing.com
Chatwing.com is a company that has brought innovation to the modern chat widget. Operating for more than five years now, Chatwing and its team of developers have dozens of ideas ready to be introduced to the public. The Chatwing chat app is an easy-to-use online tool that can help web users interact with each other and can also generate continuous traffic. Chatwing will always be a "freemium" application for everyone.