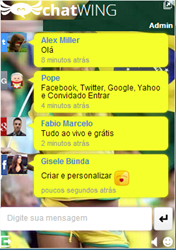 New York, NY (PRWEB) January 30, 2014
Chatwing offers a new live chat tool that can help radio streaming sites in building popularity. Through this embeddable widget, the site owners can communicate with their visitors effectively and the flow of continuous web traffic is ensured. Here are the additional features showcased in Chatwing's radio streaming chat box:

Social Media Usage. The widget is equipped with social media integration system; this is meant for better communication rate among web users. Facebook and Twitter are the popular social networks used for logging in. Tumblr and Instagram methods were also added by the developers to expand the widget's functionality. Email marketers, on the other hand, can use their Google and Yahoo accounts.
Different forms. One of the best features of the Chatwing chatroom software is its multiple form system. It can be embedded in the form of shortlinks, and users can even create their own chatroom names. The popular method is website embedding. After creating the widget, the user can just copy the code and paste it to a website's editor. Website embedding is highly useful for radio streaming sites.
Premium advantages. For better chatroom leverage, users can rely on Chatwing's premium services. These services can be availed through virtual coins—the official Chatwing currency. Each coin is equivalent to $1 and allows the payment method of Stripe. The common premium services include custom subheaders, custom logo, secure socket layers, additional chatting networks, and enhanced social media functions.
Radio streaming site owners can expect a leap of traffic rate during the first week of widget usage. The percentage varies on several factors: website ambiance, content, music being played, moderator etiquette, and many more.
About Chatwing.com
Chatwing.com is a company that has brought innovation to the modern chat widget. Operating for more than five years now, Chatwing and its team of developers have dozens of ideas ready to be introduced to the public. The Chatwing chat app is an easy-to-use online tool that can help web users interact with each other and can also generate continuous traffic. Chatwing will always be a "freemium" application for everyone.