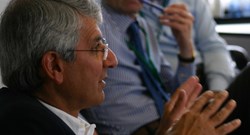 "Now is the right time for CIOs who have been deliberating about the complexity of options, to talk to us frankly about their concerns and expectations." Al-Noor Ramji
(PRWEB UK) 27 January 2014
Mr Ramji, former Chief Technology Officer at BT Group, has a successful track record helping big businesses transform their IT systems using the cloud, and more recently was Executive Vice President of Misys PLC. Prior to this, Mr Ramji also served as Chief Information Officer at UBS, as well as Global Head of Operations at Credit Suisse. He is a multi-year winner of the CIO 100 Award, and the British Computer Society CIO of the Year. Mr. Ramji is a Chartered Financial Analyst and holds a BSc in Electronics from the University of London.
"Al-Noor Ramji is one of the world's leading experts in transforming complex IT infrastructure and utilising cloud computing. Using his extensive industry knowledge, he is well placed to help our clients reap the benefits of a reduced reliance on their legacy systems," said Steve Peskin, Managing Director, Virtual Clarity.
Operating across North America and Europe, London based Virtual Clarity help their clients rapidly unlock cloud computing to deliver sustainable cost reductions and accelerate time to market for their new products, services and initiatives. Mr Ramji will be concentrating on working with Virtual Clarity's clients in both the communications and financial sectors.
Mr Ramji said, "This unique consultancy offers me a fresh opportunity to work with like-minded, experienced people who see a positive future for many enterprises by working with them to achieve a sustainable reduction in infrastructure costs. Now is the right time for CIOs who have been deliberating about the complexity of options, to talk to us frankly about their concerns and expectations."
Virtual Clarity help their clients eliminate the need to own IT infrastructure by moving their applications and data securely to the cloud. This delivers sustainable cost reductions, creates a more flexible service capability and a reduced time to market for new business initiatives.
Virtual Clarity acts entirely independently of all vendors, allowing them to help clients make clear decisions, based on relevant information rather than generic research. The experienced team includes technology entrepreneurs, former CIOs, CTOs and infrastructure engineers at major banks as well as senior software engineers.
Virtual Clarity has helped some of the world's largest organisations to adopt cloud computing technologies, including BT, Credit Suisse, ING Bank, Philips and Visa.
For more information contact Steve Peskin at Virtual Clarity
+44 (0) 203 092 9751
steve.peskin(at)virtualclarity(dot)com