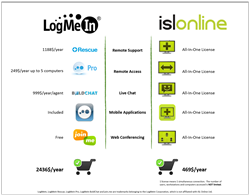 Founded in 2001 and based in Europe, UK, ISL Online offers highly secure software and mobile applications for remote access, remote support, live chat and web conferencing all included in their All-In-One License.
Swindon, UK (PRWEB UK) 24 January 2014
LogMeIn's short notice (21st January 2014, LogMeIn Official Blog) has affected a large number of their free account users; while for home users almost any alternative might work, small businesses using the software professionally will have to find an equally or more secure and trustworthy alternative product. Founded in 2001 and based in Europe, ISL Online has a profound experience in developing remote desktop technologies. Besides the reputable names such as Konica Minolta, Swiss Post, Canon, Idexx and others, the majority of ISL Online's users are small and medium businesses. Interested individuals or companies can start a fully functional free trial, ask for a demo or contact ISL Online team through their live chat.
All-In-One No-Limit Formula
ISL Online offers an all-inclusive suite, which includes tools for remote access (alternative to LogMeIn Pro), remote support (LogMeIn Rescue), live chat (BoldChat), web conferencing (join.me) and mobile applications for iOS and Android devices. Purchasing one license a company can offer its customers an integral online communication and support service.
"We believe in transparent pricing with no hidden costs and setting clear limits," Jure Pompe, CEO at ISL Online, outlines the company's pricing structure. ISL Online is priced per active connection and sets no other limits. One license means one simultaneous connection. A company that purchases one license can create an unlimited number of users within the company, which can access an unlimited number of computers from an unlimited number of workstations (computers, mobile devices) as long as they run one remote session at a time. For instance, a user connects to a remote computer and after he closes the connection, he or any other user of the same license can establish a new remote connection. The SaaS license includes all upgrades and updates, including mobile apps. If the business grows, the company can add additional licenses at any time. There is also a possibility of purchasing a package of minutes in a pay-per-use coupon in order to cover the rush hour.
Easy Start and Fully Functional Free Trial
To start using ISL Online tools, one only needs to sign up for a non-obligatory and fully functional trial at https://www.islonline.com/signup/. Once logged in, the user can install remote access on as many computers as he or she likes and access them remotely from any computer or mobile device. The software works on all major operating systems and mobile platforms iOS, Android and Windows Phone. To a bundle of basic features that users take for granted ISL Online adds advanced features such as administrative mode where the user is able to see the UAC dialogs, file transfer and sharing, remote printing, Wake-On-Lan, session recording and others.
More information about ISL Online:

About ISL Online
ISL Online provides SaaS-based remote access, remote desktop, live chat and web conferencing solutions to connect quickly, simply and securely millions of Internet-enabled devices across the globe. Designed for consumers, mobile professionals and IT organisations, ISL Online's solutions empower over 150,000 business users like Konica Minolta, Raiffeisen Bank, Mitsubishi Electric, Bahrain Telecom and Coca Cola to create more than 10 million sessions yearly. Founded in 2001, ISL Online is one of the pioneers of the remote desktop industry.