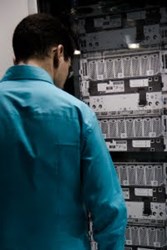 they decided to build a replica of Ovalworld's servers off-site so they could run the software isolated from the operational system and check where the problems were coming from
Bolton, Lancashire (PRWEB) January 23, 2014
Bolton based IT support company, Workforce Systems has over 25 years' experience of providing business IT support to some of the North West's most successful owner-managed companies from its Bolton base.
Many of these clients have come to use Workforce as their own IT department because Workforce Systems provides all the business IT support services they require such as hardware, installation, bespoke programming and backup services and the opportunity to speak directly to the engineer rather than through a call centre.
For the customer, this is a very cost effective way of managing IT support and gives them access to a wide variety of experienced talent, which is often called on by their clients, as in Ovalworld's case, to resolve time-consuming and potentially expensive disputed IT installation problems, when all the client wants is to get on with their business.
To explain, Ovalworld, a long-standing client of the Bolton IT support specialists, had been approached by a wallpaper manufacturer to provide warehousing and distribution for their customers in the North of England.
To manage this client, Ovalworld had reviewed the market and selected an off-the-shelf warehouse management application and wanted to ensure their IT infrastructure would not let them down.
Workforce began by conducting a full IT review and then recommended that new file servers would be needed to run the new application which were sourced by Workforce and installed in the new warehouse.
As they knew Ovalworld's systems well, Workforce staff had several installation planning meetings with both the warehouse management software supplier and a separate cabling company who were involved.
Fairly shortly after the new servers were configured and the new system operational, Ovalworld began to experience problems: the system was performing poorly and running extremely slowly.
The business IT support firm rechecked their work and confirmed that their servers were configured correctly.
Additionally, the software company told Ovalworld they had had no complaints with this system on previous installations so didn't believe they were responsible for the poor performance.
Workforce has a reputation of never giving up on a customer's problem, an attitude which many see as untypical in the IT industry, and in this case they believed there must be a solution.
Consequently, due to the depth of knowledge and experience of the Workforce engineers, they decided to build a replica of Ovalworld's servers off-site so they could run the software isolated from the operational system and check where the problems were coming from.
By analysing the database performance the Lancashire IT services company were able to identify a weakness in the software whereby, queries were actually generating more network traffic than was needed due to the way the software had been written.
Workforce's replica servers showed the system was reading all the data rather than that which only related to the query.
An additional problem that running the replica servers exposed concerned the software for printing labels in the warehouse.
Workforce's investigation showed that there was a persistent memory leak written into the program which meant, over time, all the free operating memory on the system was being used up which was resulting in poor performance issues for Ovalworld.
Once these issues were identified it was clear that the software needed to be modified and the system now performs as anticipated.
Managing Director Martin Short commented: "We have dealt with Workforce for over 10 years and rely on their expertise and knowledge. We always get a speedy response from Workforce: the support staff dial in remotely to save us time and money and they even organise out-of-hours upgrades as well as managing our offsite backups. We are more than happy with Workforce & are definitely happy to recommend them."