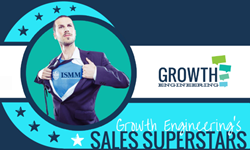 Windsor, Berkshire (PRWEB UK) 24 January 2014
The Diploma is crafted to help practising or aspiring sales professionals boost their sales and career prospects, and will involve undertaking eight Level 3 ISMM eLearning Units and assignments and attending four workshops at the company's offices in Windsor.
The ISMM is responsible for establishing the benchmark of professionalism in sales and is the only professional association recognised by Ofqual as an awarding organisation offering qualifications in sales, marketing and sales management.
Juliette Denny, Growth Engineering's Managing Director, said: "We're totally invested in helping people become the best they can be, so our Sales Superstar Programme is about equipping the future salespeople of Britain with the skills and techniques they need to really make an impact.
"We hope that this Programme will catch on and that other companies will follow our lead and offer aspiring salespeople the chance to get such a great qualification like this for free."
Growth Engineering are looking for highly motivated, enthusiastic individuals, ideally from a sales or customer service background. They are asking applicants for the Sales Superstar Programme to write 200 words on why they should be selected and send to: hello(at)growthengineering(dot)co(dot)uk. The first intake of Superstars will start the Programme in March 2014.
About: Growth Engineering are the arch-enemies of dull online learning. We work towards challenging every preconceived notion of eLearning to establish a new and refreshing experience for learners. We aid and inspire learning by creating innovative learning designs and using modern technologies. Our gamified Academy Platform and game-based learning creates all-new levels of engagement and we also offer a library of Ofqual-recognised qualifications to help our learners pump rocket fuel into their professional development. In short, we want to make your learning journey as easy and rewarding as possible.
Contact: For more details, please contact: harry.cloke(at)growthengineering(dot)co(dot)uk or phone the office on 01753 840 331.
Website address: http://www.growthengineering.co.uk and http://www.ismmonline.co.uk