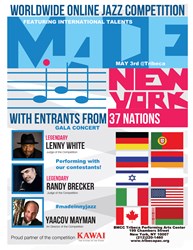 This is clearly a great platform for advertisers to reach domestic an international audience of dedicated jazz musicians and fans with their product messages.
Manhattan, New York (PRWEB) January 23, 2014
Made In New York Jazz Competition is offering the great opportunity for sponsors to provide "scholarships" in the form of fee waivers for musicians seeking to enter the contest. For each $75 in advertising purchased, an additional entry fee will be waived by the competition, allowing another great band or soloist to be seen by an international community of music lovers. The competition's website has become a high-traffic hub where jazz fans from around the world can discover amazing international acts. Since its launch in 2013, the competition has received a surge of talented entries from dozens of jazz artists from Portugal, Russia, Germany, South Korea, Belarus, Croatia, Serbia, Macedonia, Montenegro, Poland, Brazil, United States and many others who submitting their performance videos. Advertisers are encouraged to be part of this celebration of jazz culture from around the world – sponsors can both get their message out to a targeted, worldwide jazz audience as well as to directly help talented musicians seeking to win a spotlight on the New York jazz scene.
"We've been getting great traffic to the site and enormous amount of views," said Made in NY Jazz Competition founder Misha Brovkin. "This is clearly a great platform for advertisers to reach domestic an international audience of dedicated musicians and fans with their product messages. And it's also a great opportunity for them to be philanthropic and by directly assisting talented musicians who might not have the financial means to enter."
The explosion of interest in Made In New York innovative jazz competition has turned our website into a jazz hub for communities of interest from fans to record producers. The platform has demonstrated a tremendous level of global user-engagement that is benefitting the international jazz community.
The two-part presence—online on high-traffic website portal and at the Gala Concert —ensures that sponsors are optimized for maximal exposure to a virtually unlimited audience of consumers. The competition culminates in a finale concert at the Tribeca Performing Arts Center on May 3rd 2014.
Members of the worldwide jazz community are predominately well-educated, cultured, and middle-class to affluent. Musicians, enthusiasts, industry professionals, and the jazz media represent domestic and international professional-class demographic. Professionals and enthusiasts occupy the coveted 25 to 54 age-group, which has enormous spending clout, using tablet computers, smart phones active in social media, and is financially literate.
Recently The Made in New York Jazz Competition announced the partnership with KAWAI USA—the future of the piano®. This significant corporate partnership between the Made in New York Jazz Competition and KAWAI Musical Instruments USA will help promote and nurture the next generation of global jazz musicians. The Made in New York Jazz Competition and KAWAI USA are together helping great jazz artists achieve international exposure.
There are few advertising options with the Made In New York Jazz Competition: Title sponsorship, Venue sponsorship. Wallpaper advertising (promotional wallpapers can be uploaded on any page of the competition) and Banner placement on specific page/artist page/all pages. Advertisers will reach a growing community of jazz lovers and artists, while promoting and selling their products through madeinnyjazz.com. For details regarding pricing and availability of the new advertising service, please send an inquiry to: misha(at)madeinnyjazz(dot)com.
About:
The Made in New York Jazz Competition is the world's first exclusively online jazz competition.
Last Year the competition has compiled over 16,000 active registrants and 250 competition entrants from more than 37 countries. Users and has logged over 1.4 million video loads.
Misha Brovkin
Made In New York Jazz Competition
misha(at)madeinnyjazz(dot)com
(347) 985-0597
Tom Love
Sr. Director for Online Marketing
tlove(at)kawaius(dot)com
310-631-1771 ext. 238