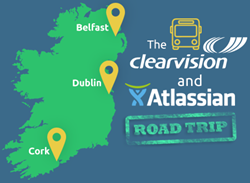 The Atlassian Road Trip will give us an opportunity to meet development teams personally to discuss Atlassian tools, agile processes and end-to-end software development.
(PRWEB UK) 27 January 2014
Representatives from Atlassian and one of their leading Expert Partners, Clearvision, are to travel from Cork to Belfast visiting software development teams along the way.
The initiative, a joint venture between Clearvision and Atlassian, is a rare opportunity for fans of Atlassian tools to speak with Atlassian and technical experts from Clearvision.
Atlassian, creators of the leading issue tracking tool JIRA, have gone from strength to strength in the software industry, and this trip is testament to their global growth.
Clearvision have had a long-standing relationship with many large organisations in Ireland and this support by Atlassian should help further improve their reputation among Enterprise teams looking for support.
The events start on Monday 24th February in Cork and will give attendees the opportunity to learn more about best practice end to end software development deployments, including the Atlassian Suite, and Open Source Version Control tools such as Git.
Agenda
Introduction from Atlassian - Matthew Coughlan (Atlassian UK and Ireland Experts Manager)

The world of Atlassian
How the Atlassian stack helps Enterprise organisations worldwide
What's new with Atlassian
Who are Clearvision - Mark Crutchley (Clearvision Account and Operations Manager for Ireland)

We're the Atlassian technical experts on the ground
How we assist Enterprise customers with their software development lifecyle
How do we assist organisations in Ireland?
Spectrum Demonstration – Clearvision technical consultant

End-to-End software development life-cycle demonstration
Powered by the complete Atlassian tool suite, Git and the Spectrum ALM Core
Open Forum – Mark Crutchley, Matthew Coughlan and a Clearvision technical consultant

Talk to the experts
Get assistance with specific Atlassian questions, whether you're new to the tool suite or have existing installations
Locations:
Cork - The Gresham Metropole - Tuesday 24th Feb 3PM-5PM
Dublin - DoubleTree by Hilton, Burlington Road - Wednesday 26th Feb 3PM-5PM
Belfast - Ramada Encore - Thursday 27th Feb 3PM-5PM
As well as the afternoon sessions Clearvision and Atlassian will be visiting a number of development teams throughout Ireland and Northern Ireland to discuss their needs specifically.
Operations Manager for Ireland, Mark Crutchley, said: "The Atlassian Road Trip will give us an opportunity to meet development teams personally to discuss Atlassian tools, agile processes and end-to-end software development."
"We want to learn more about how about developers use Atlassian software as part of their software delivery process and discuss how we can improve that process to ultimately deliver software to market faster, and within budget," he added.
As an Atlassian Platinum Expert partner Clearvision offer a number of services including:

Installation and configuration
24/7 Support
Training
Plugin development
Consulting and integration
Managed hosting
Branding Atlassian tools
To learn more about the Ireland Road Trip or to secure your place on one of these exclusive sessions click here.
For more on services Clearvision offer as part of their role as an Atlassian Enterprise Expert visit: http://www.clearvision-cm.com/atlassian-software-services or contact their sales team on +44845 459 9530.