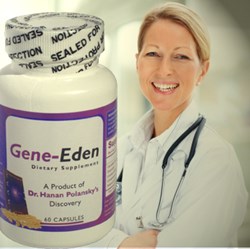 We recommend that individuals with an EBV infection take Gene-Eden-VIR to help their immune system target the latent virus. This natural supplement was proven to reduce symptoms of an EBV infection in a post-marketing clinical study. – Mike Evans, polyDNA
Rochester, NY (PRWEB) January 28, 2014
A person with infectious mononucleosis (Mono) caused by the Epstein Barr Virus (EBV) can sometimes develop a rash. Many doctors used to believe that a rash develops as a result of using antiviral medications. Recent studies show that this is not true. Instead, the rash is associated with EBV. In its December 2013 survey, polyDNA learned that most people did not know the source of their rash when experiencing a case of Mono.
In a study, researchers found that "Rash can be one of the symptoms in acute infectious mononucleosis. According to the classical literature sources, drug-induced rash can be associated with synthetic penicillin and Epstein-Barr virus itself." However, according to this study, the "Previous conclusion that synthetic penicillin produces rash seems to be not true, because there are many patients who were treated with them but did not develop rash." (See the journal Medicinski Pregled, from March 2012) (1).
If someone does develop a rash during Mono, Patient.co.uk says that the rash is a clear symptom of EBV Mono infection. It will likely show up as a "Fine macular non-pruritic rash, which rapidly disappears." (See Patient.co.uk, from October 7, 2013) (2). Infected individuals can expect that their rash will look like "small, blanching pink or red spots. Papules are raised bumps, usually small (1-2 mm)… (they) can be seen in a wide variety of conditions, from infectious to contact rashes, to systemic diseases." (See HealthTap.com) (3).
In addition to a rash, someone with Mono may also have symptoms, which include low-grade fever, fatigue and prolonged malaise (weakness and tiredness)…sore throat," and more.
The Epstein Barr Virus is known for causing Mono. In addition, the CDC says that "Epstein-Barr virus (EBV), also known as human herpesvirus 4, (and) is a member of the herpes virus family. It is one of the most common human viruses. EBV is found all over the world. Most people get infected with EBV at some point in their lives." (See the CDC's page on EBV, last updated on January 6, 2014) (4).
"We recommend that individuals with an EBV infection take Gene-Eden-VIR to help their immune system target the latent virus. This natural supplement was proven to reduce symptoms of an EBV infection in a post-marketing clinical study." – Mike Evans, polyDNA
A recent post marketing clinical study published in the peer reviewed, medical journal Pharmacology & Pharmacy, in a special edition on Advances in Antiviral Drugs on August 12, 2013 showed that Gene-Eden-VIR is safe and effective (5). Additionally, up to 70% of those studied reported a decrease in viral symptoms (5).
Each ingredient of Gene-Eden-VIR was chosen through a scientific approach. Scientists scanned thousands of scientific and medical papers published in various medical and scientific journals around the world to identify the safest, most effective natural ingredients that target the latent form of herpes. (5)
To learn more about Gene-Eden-VIR and herpes, visit http://www.gene-eden-kill-virus.com/Herpes-Remedy.php. All orders of Gene-Eden-VIR are completely confidential, and no information is shared or sold to any third party. Privacy is assured.
Reference:
(1) Rash in primary Epstein-Barr virus infection. Published in March 2012.
http://www.ncbi.nlm.nih.gov/pubmed/22788063
(2) Patient.co.uk - Infectious Mononucleosis.
http://www.patient.co.uk/doctor/infectious-mononucleosis
(3) HealthTap.com - What is maculopapular rash like?
https://www.healthtap.com/topics/nonpruritic-maculopapular-rash
(4) CDC - About Epstein-Barr Virus (EBV). Last Updated on January 6, 2014.
http://www.cdc.gov/epstein-barr/about-ebv.html
(5) Gene-Eden-VIR Is Antiviral: Results of a Post Marketing Clinical Study. Published on August 12, 2013.
http://gene-eden-kill-virus.com/PP_Gene-Eden-VIR-is-Antiviral.pdf
polyDNA is a biotechnology company that develops dietary supplements using the unique scientific method developed by Dr. Hanan Polansky, which is based on Computer Intuition.
In addition to his unique scientific method, Dr. Polansky published the highly acclaimed scientific discovery, called Microcompetition with Foreign DNA. The discovery explains how foreign DNA fragments, and specifically, DNA of latent viruses, cause most major diseases.
polyDNA developed Gene-Eden-VIR , an antiviral natural remedy that helps the immune system kill latent viruses.