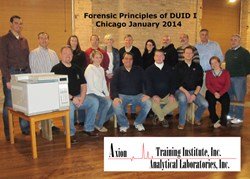 Attorneys need to have the right scientific training to be able to offer a suitable defense for their clients.
Chicago, IL (PRWEB) January 28, 2014
The American Chemical Society has recently launched a new training course called "Forensic Principles of Driving Under the Influence of Drugs," which was held for the first time on January 16-18, 2014 at Axion Analytical Labs in Chicago.
The DUID course focuses on the analysis of biological fluids (blood, urine, hair, oral fluid) for drugs of abuse. As the name implies it focuses on DUID from the motorist's point of view. It is one full day of instrumental analysis on the qualitative and quantitative analysis. Additionally, there are two full days of pharmacology discussing both the course of the drug in the body (pharmacokinetics) and the drugs' impact on psychomotor function (pharmacodynamics).
McShane, the Senior Assistant Chromatography Instructor for the American Chemical Society, comments, "All across the country there have been more and more arrests for DUI drugs. Attorneys need to have the right scientific training to be able to offer a suitable defense for their clients."
The course was attended by the following attorneys:
Michael Bruckheim DC, Michael Cohen WI, Nathan Dineen WI, Steven Hamilton TX, Steven Hernandez NJ, Katherine Kennedy PA, Josh Lee OK, Justin McShane PA, Tad Nelson TX, Greg Oberhauser MA, John Thurston KS, Sarah Toney IL.
Attorney McShane is a trial attorney who specializes in using forensic science in defending citizens amongst us who have been accused by the Government. He is a frequent invited guest lecturer at national, state and local seminars that are attended by prosecutors, police, investigators, lawyers, judges, academics, scientists, machine manufacturers, and policy-makers. He has been invited seven times to lecture at the American Chemical Society (ACS) National meeting and has presented three times at the 2011, 2012 and 2013 American Academy for Forensic Science (AAFS) national meetings. He was named a Fellow with the American Institute of Chemists. The ACS has named him a Senior Assistant Chromatography Instructor. He serves as the co-chairman of the Forensic Science section of the ACS-Chemistry and the Law Division. In 2013, he was named to the National Trial Layers Top 100 list. He is the Chairman/CEO of the McShane Firm, LLC, a seven attorney criminal defense and DUI law firm.
He maintains two blogs:
http://www.TheTruthAboutForensicScience.com and http://www.PADUIBlog.com