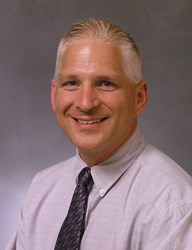 It's gratifying to reach the landmark of 500 surgeries and realize that we've been able to help so many people achieve better symptom management, mobility and quality of life.
Pittsburgh, PA (PRWEB) January 23, 2014
Long regarded as a Neurosciences Center of Excellence with special expertise in the treatment of movement disorders, Allegheny General Hospital (AGH), part of the Allegheny Health Network, will celebrate its 500th Deep Brain Stimulation procedure on Monday, January 27, 2014 with live coverage of the case on Twitter.
Deep Brain Stimulation (DBS) is a groundbreaking procedure used to control motor symptoms in patients with Parkinson's Disease, essential tremor, dystonia and other movement disorders. Surgeons implant slender leads tipped with electrical contacts into the brain to deliver mild electrical pulses to locations associated with specific brain functions, rebalancing neural circuits and influencing nerve activity. The leads are connected to a compact, battery-operated generator, which is implanted near the collar bone in a fashion similar to a heart pacemaker.
On Monday, the public will be invited to experience the fascinating DBS procedure first hand as Donald Whiting, MD, Director of AGH's Center for Spasticity and Movement Disorders, and his team attempt to control pain and muscle spasms in a patient with cervical dystonia. Also known as spasmodic torticollis, cervical dystonia causes involuntary contracting of the neck and shoulder muscles leading to abnormal movements and awkward posture of the head and neck.
Photos and video of the procedure will be published via Twitter in real time throughout the case on Allegheny Health Network's twitter site, @AHNToday, under the #500brains hash tag.
Though DBS can be performed while a patient is under general anesthesia, using MRI guidance to place the leads, patients typically remain awake during the procedure to assist the surgical team by completing various movements to test their agility, muscle control, muscle tone and to assess tremors.
The surgical team at Allegheny General is among one of the most experienced in the nation with DBS surgery. Dr. Whiting is the only surgeon in western Pennsylvania to have completed 500 cases and joins an elite group of surgeons nationwide who have done so.
"It's gratifying to reach the landmark of 500 surgeries and realize that we've been able to help so many people achieve better symptom management, mobility and quality of life," Dr. Whiting said.
In 2000, Allegheny General made headlines when it performed DBS surgery on a young man with an especially rare form of the disorder dystonia that affects the entire body, rather than specific muscle groups. At the time, Ed Cwalinski, 18, was the youngest person in the United States to undergo the procedure. DBS was not yet FDA approved for dystonia treatment, but Mr. Cwalinski underwent the surgery as part of a humanitarian exemption trial and the results were staggering.
The high school student went from being unable to walk or eat unassisted to being able to return to school, graduate from college and forge a successful career. Today, Mr. Cwalinski serves as co-leader of the Western Pennsylvania Dystonia Support Group and is a dystonia advocate, speaking with patients or patient's parents about the condition and how DBS surgery helped him overcome it.
Mr. Cwalinski is one of dozens of patients who've undergone DBS for dystonia at AGH. Hundreds more have been treated for Parkinson's disease and essential tremor, which are more prevalent. Dr. Whiting and his colleagues now are studying the procedure to see if it may prove useful in treating conditions other than movement disorders.
In 2013, AGH neurosurgeon Michael Oh, MD, reported on the first use of deep brain stimulation to the brain's "feeding center" associated with a weight loss trend in morbidly obese patients, at the International Neuromodulation Society's 11th World Congress in Berlin.
A pilot study conducted by Drs. Oh and Whiting and AGH neurosurgeon Nestor Tomycz, MD examined the safety and efficacy of using deep brain stimulation to change activity in lateral hypothalamic area—the area of the brain thought to control hunger¬— in three patients who had failed to keep weight off after gastric bypass surgery.
"We hoped to prove that we could safely alter metabolism with DBS and eventually provide another alternative for achieving a healthy weight for patients who could not do so through dieting and traditional weight loss surgery, " said Dr. Oh.
AGH is involved in expanded research studies of DBS as a treatment of obesity and Dr. Whiting says the team hopes to be able to reduce food cravings and appetite in patients using optimal electrical settings. Surgeons are also investigating the utility of DBS for treating psychiatric conditions including obsessive compulsive disorder and addictions.
---
About Allegheny General Hospital
The Neurosciences Institute at AGH integrates renowned experts in the subspecialties of neurology, neurotology, neuroradiology, neuro-critical care, and neurosurgery to offer world class care for patients with the most complex neurological disorders. Recognized as both a Neurosciences Center of Excellence and a Spine Center of Excellence, the program serves as a national and international referral center for treatment of all types of neurological conditions.